Mad Money Lightning Round: Cramer Thinks That RIMM Is Dead Money (RIMM, AAPL, MWE, PNC, FBC, HAL, ED, PGN, AGNC, JDSU, CRUS, OVTI, C, MW)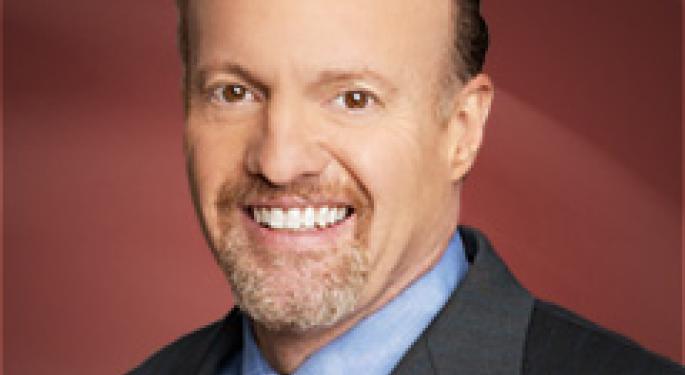 On CNBC's Mad Money, Jim Cramer advised investors to stay away from Research In Motion Limited (USA) (NASDAQ: RIMM), because it is dead money. Cramer believes that RIMM can't compete with Apple Inc. (NASDAQ: AAPL), and you should sell it. RIMM dropped 10.84% on Friday, and closed at $52.23.
Cramer is a buyer of MarkWest Energy Partners, L.P. (NYSE: MWE). This stock is one of his favorite stocks. With a yield of 7.7% MarkWest Energy Partners (MWE) is a winner.
PNC Financial Services (NYSE: PNC) is a better buy then Flagstar Bancorp, Inc. (NYSE: FBC), thinks Cramer. Big banks are being hammered right now, and it is not the time to buy small banks. PNC gained 3.32% on Friday, while FBC added 5.94%.
American Capital Agency Corporation's (NASDAQ: AGNC) dividend is a red flag, thinks Cramer. Investors should sell this stock, because Cramer doesn't believe that this dividend yield is sustainable. American Capital Agency Corp. (AGNC) gained 1.86% and closed at $28.97 on Friday. It had a volume of 4.26M shares.
Cramer recommended Halliburton Company (NYSE: HAL) as a buy, because it does a lot of natural gas drilling. He also thinks that the problems with the oil spill are over for HAL. Halliburton Company (NYSE: HAL) gained 4.48% on Friday.
Consolidated Edison, Inc. (NYSE: ED) is a great stock, thinks Cramer. He is a buyer of this stock, but he likes Progress Energy, Inc. (NYSE: PGN) more. Con Ed (ED) gained 0.18% today, and PGN fell 0.28%.
JDS Uniphase Corporation (NASDAQ: JDSU) is a long term play, and if you want a stock that will perform in the short run, Cramer recommends Cirrus Logic, Inc. (NASDAQ: CRUS) and OmniVision Technologies, Inc. (NASDAQ: OVTI).
JDS Uniphase gained 1.37% on Friday and Cirrus Logic (CRUS) fell 0.24%. OmniVision (OVTI) gained 1.89%.
Now that financial regulation worries are over, Citigroup (NYSE: C) is Cramer's favorite speculative play. He urges government to stop selling the stock. It is not going to move right now, but Cramer sees it at $4.50.
The Men's Wearhouse, Inc. (NYSE: MW) raised its dividend recently, and Cramer believes that when a company raises its dividend that much it is doing all right. He thinks that The Men's Wearhouse (MW) is a long term story. It gained 1.98% on Friday.
Posted-In: Jim CramerCNBC Long Ideas Jim Cramer Short Ideas Media Trading Ideas
View Comments and Join the Discussion!