Barron's Picks And Pans: Starbucks, Lockheed, Motorola And More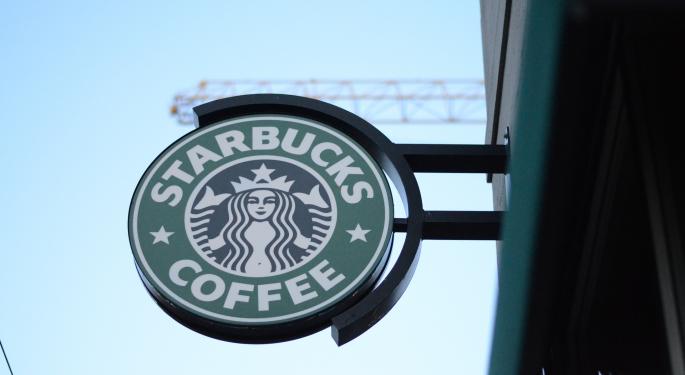 This weekend's Barron's cover story provides a look at how the leading coffee chain can teach Silicon Valley a lesson.
Other featured articles discuss a top defense contractor that should benefit from increased military spending and a radio maker whose products could be supplanted.
The prospects for a recent IPO and a specialty retailer are also examined.
"Starbucks Teaches Silicon Valley a Lesson in Tech" by Alex Eule is the cover story and offers a look at how coffee giant Starbucks Corporation (NASDAQ: SBUX) has changed consumer payment behavior in a way that should inspire envy in Silicon Valley. And see why, despite a recent slowdown in same-store sales, Barron's thinks shares could rise 20 percent or more over the next year.
Lawrence C. Strauss's "In a World of Danger, Lockheed Looks Like a Safe Bet" points out that Lockheed Martin Corporation (NYSE: LMT), the top defense contractor in the United States, is ramping up production of F-35s and should benefit from an expected boost in military outlays. The stock is up sharply since 2013, but could it rise another 14 percent over the next 12 months?
In "Static Ahead for Motorola Solutions?" Bill Alpert makes the case that shares of Motorola Solutions Inc (NYSE: MSI) could tumble in a few years if sales of its two-way radios used by first responders and emergency workers plummet due to a new multibillion dollar public-safety broadband network. Shares have marched higher since 2010, but should investors worry about a big downturn?
See also: Apple, Amazon, Tesla And The Changing Dynamics Of The Car Industry
Under private-equity firm KKR, Gardner Denver Holdings Inc (NYSE: GDI) retooled its compressor and pump business, according to "Don't Dump This Pump Stock" by Jack Willoughby. Now it's public again and trading above its recent IPO price. See why Barron's feels that it will use its generous cash holdings to build its portfolio of brands, and that the stock may have upside of up to 40 percent.
In Vito J. Racanelli's follow-up article, "A Fender Bender for Advance Auto," find out why Barron's recent bullish call on Advance Auto Parts, Inc. (NYSE: AAP) ran into a brick wall last week. Does the predicted turnaround remain intact? What should investors expect in the fourth quarter and beyond? In addition, another follow-up article offers suggestions for where to shop for retail stocks.
Also in this week's Barron's:
A mutual fund to own when the downturn comes
Why Warren Buffett does not own gold
The president's secret weapon that will make the markets cheer
How investors are chasing faster growth abroad
Happiness as a measure of economic freedom
Whether there is value in tech funds
Reasons to be wary of volatility ETFs
Dividends in health care other than pharmaceuticals
View Comments and Join the Discussion!
Posted-In: advance auto parts Barron's gardner denver Lockheed Martin motorola solutions Starbucks Warren BuffettMedia Best of Benzinga