Barron's Ponders The Future Of Netflix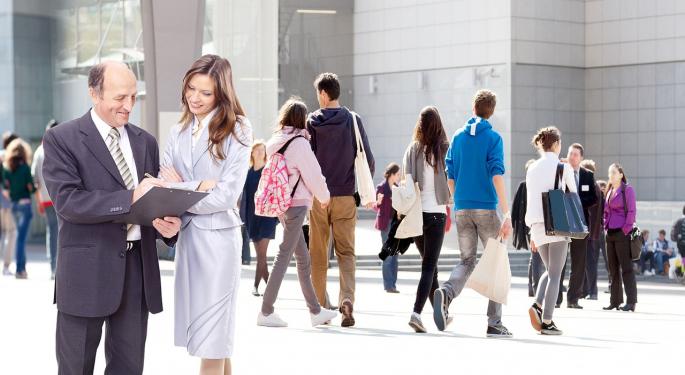 The cover story in this weekend's Barron's features a look at how vulnerable the video streaming giant is now as it faces big changes.
In an interview, a renowned stock picker from Fidelity share his thoughts on various investing topics and offers a few picks.
Other featured articles take a look at the prospects for a leading German automaker, a defense contractor and more.
As Walt Disney Co (NYSE: DIS) goes its own way, Amazon.com, Inc. (NASDAQ: AMZN) looms and Facebook Inc (NASDAQ: FB) muscles into video, cash-burning Netflix, Inc. (NASDAQ: NFLX) looks vulnerable, according to the latest cover story in Barron's. Could shares of the leading subscription video streaming service provider slump more than 50 percent by the end of the decade?
"The Trouble With Netflix" by Jack Hough suggests that Netflix is running low on cash, just as it faces the loss of one of its largest content providers and increasing competition. While it continues to push aggressively into producing its own content, only one of its top performers — "Stranger Things" — is owned by the company instead of licensed. The consensus view on Wall Street is that Netflix will still be burning cash by the end of the decade, perhaps racking up $10 billion in debt.
The story is very different with Netflix's most direct threat, the Prime video service from Amazon.com, Inc. (NASDAQ: AMZN). Amazon owns the shows and movies it labels as "original" instead of licensing them. In addition, the other so-called FANG stocks — Facebook and Alphabet Inc (NASDAQ: GOOG) (NASDAQ: GOOGL) — have identified video as a main target of future investment.
See why there are concerns about the way Netflix treats what it spends on shows for accounting purposes and whether aggressive growth can continue given the risk of Netflix getting shut out of attractive content in coming years if its buying power wanes. Find out how troubling the departure of Disney is in a world where many of the best content owners already have deals with other streamers. And what is likely to happen to the price of subscriptions?
Also see why Barron's suggests investors enjoy the streaming service while it is still a bargain but stay well clear of the shares.
See also: That's Rich: Highest-Paid Comics Who Laughed All The Way To The Bank, Thanks To Netflix
Other Feature Stories
Legendary stock picker Joel Tillinghast, who runs the $38 billion Fidelity Low-Priced Stock fund and has one of today's best investment records, is interviewed. He shares his thoughts on where investors get tripped up, what the role of an active manager is today and where he currently sees value, including some specific picks. A companion article features an excerpt from Tillinghast's book "Big Money Thinks Small" that examines why complexity is the investor's enemy.
See what Barron's feels the prospects are for Volkswagen now that its emissions scandal is in the rear-view mirror and a possible breakup is on the horizon, Microsoft Corporation (NYSE: MSFT) with its long runway with the cloud, and General Dynamics Corporation (NYSE: GD) as the latest saber-rattling promises increased defense spending. Also, how to find out about the curse of the stock market in years that end in 7.
View Comments and Join the Discussion!
Posted-In: Alphabet Amazon Amazon.com Barron's disneyTop Stories Media Trading Ideas Best of Benzinga