Barron's Picks And Pans: Amazon, Novartis, Tesla And More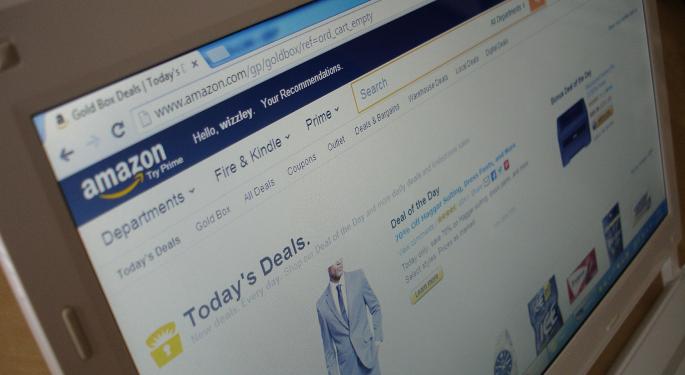 This weekend's Barron's takes a look at why the king of e-commerce must avoid becoming too profitable.
Other featured articles offer the prospects for retail stocks that benefit from woes in the sector and a Swiss drug giant with an underappreciated pipeline.
The outlook for the big automakers and a small New Jersey bank are also examined.
"Amazon's Profits Are Soaring: Why That Could Be Bad for the Stock" by Jack Hough, takes a look at why, as it steamrolls traditional retailers, Amazon.com, Inc. (NASDAQ: AMZN) must avoid becoming too profitable. Could its shares exceed $1,000 by summer? Could they gain 20 percent in a year? Will the company's market value swell to $1 trillion within five years?
In "The Amazoning of American Retail," Jack Hough suggests that Amazon laying waste to traditional retailers is a good thing for the likes of TJX Companies Inc (NYSE: TJX) and Ross Stores, Inc. (NASDAQ: ROST). See who is on the Death by Amazon Index, as well as which retailers are shuttering stores and which ones may see store counts expand up to 70 percent.
Andrew Bary's "Novartis Has the Right Prescription for Profits" makes a case for new branded and generic drugs for heart failure and psoriasis propelling Swiss drug giant Novartis AG (NYSE: NVS) to a multiyear run of earnings gains starting in 2018. Is the pipeline at this out-of-favor company underappreciated, and how does Novartis stack up against its peers?
See also: What Will Berkshire Look Like Post-Buffett?
The long-awaited auto slowdown appears to be here. So why might that be good news for shares of Ford Motor Company (NYSE: F) and General Motors Company (NYSE: GM), according to "Tesla Could Lose the Love; Ford, GM Might Gain It" by Alex Eule? And see why Barron's expects Tesla Inc (NASDAQ: TSLA) shares to fall instead.
In David Englander's "OceanFirst Financial Could Put Investors in the Money," see why Barron's believes this small New Jersey bank has attractive attributes and undervalued shares, even if there is a lot less value in the sector for investors than there used to be. Could OceanFirst Financial Corp. (NASDAQ: OCFC) stock still have up to 13 percent upside after the recent run up?
Also in this week's Barron's:
A dozen and a half exchange traded funds with reliable payouts
Betting on a stock market crash
Big tech as a security blanket
Recent tech winners and losers
Whether retail employment is really dying
The cost of Costco Wholesale Corporation (NASDAQ: COST) special payouts
When high standards become an obstacle to growth
The tax advantages of a private-equity partnership
Whether South Korean stocks are a better bet than Japan
Keep up with all the latest breaking news and trading ideas by following Benzinga on Twitter.
View Comments and Join the Discussion!
Posted-In: Amazon Amazon.com Barron's Costco Ford General Motors GMMedia Best of Benzinga