Barron's Picks And Pans: Range Resources, Snap, Xerox And More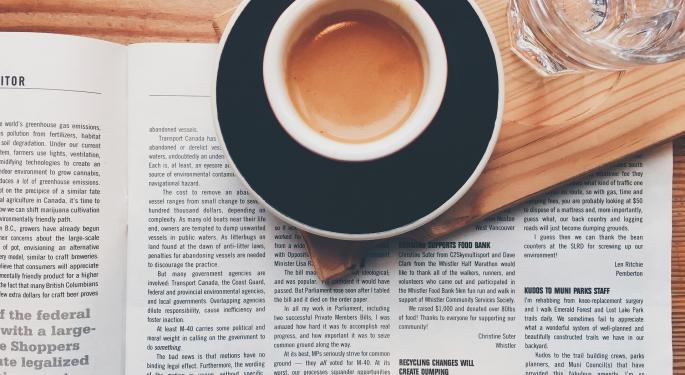 This weekend's Barron's asks whether a natural gas play is poised to bounce back.
Other featured articles offer a peek what comes next for last week's big social media IPO and whether an old-school tech company has hit the rest button.
The outlooks for some "forgotten" stocks and an unappreciated media play are also examined.
"Range Resources: An Unappreciated Energy Play" by Andrew Bary points out that shares of Fort Worth-based Range Resources Corp. (NYSE: RRC) have been pummeled by a warm winter and weak demand for natural gas. See why Barron's believes the stock is positioned to bounce back and why it is one of the best gas plays as well as a rare bargain in a record-high market.
In "Snap's Stock Price Could Be Cut in Half," Andrew Bary takes a look at why Snap Inc (NYSE: SNAP) investors will need to be very patient, after the parent of Snapchat surged 50 percent from an already full IPO valuation. Even assuming strong growth, it is hard to justify more than half the current price, says the article, which looks to Twitter Inc (NYSE: TWTR) for what to expect following the IPO.
Robin Goldwyn Blumenthal's "Xerox Hits the Restart Button" makes the case that, now Xerox Corp (NYSE: XRX) has spun off its nonprinting businesses, its stock could nearly double. See why Barron's believes investors are getting cheap shares and a good dividend from a large, profitable tech outfit with an interesting pipeline. Plus, Carl Icahn remains Xerox's biggest holder.
See also: This Earnings Season Made Netflix The Top Long-Term Internet Pick
The bull market still has room to run, according to Mark and Jonathan Boyar, who are interviewed in "Bullish on Madison Square Garden and QVC Group" by Andrew Bary. With a focus on "forgotten" and mispriced stocks, their current picks include potential takeover plays Madison Square Garden Co (NYSE: MSG) and Tribune Media Co (NYSE: TRCO).
In David Englander's "Tribune Media: The Picture Keeps Getting Sharper," see why shares of Tribune Media still look cheap after their big rise. And there are also merger rumors. Will the stock climb higher as investors recognize the value of its assets? In addition, see why Barron's thinks it is time to take profits in Allison Transmission Holdings Inc (NYSE: ALSN).
Also In This Week's Barron's
Six ways to play the increasing use of robots in manufacturing.
Barron's top 1,200 financial advisors.
The coming Federal Reserve rate hike.
What a Trump Fed might look like.
Why Nokia Corp (ADR) (NYSE: NOK) and peers are set to thrive.
What credit ratings say about dividend strength.
Whether the U.S. jobs outlook is brighter than reported.
Why investors should look to European stocks now.
Whether the rally in aluminum is headed for fast fade.
View Comments and Join the Discussion!
Posted-In: Allison Transmission Barron's Madison Square Garden Nokia range resourcesMarkets Media Trading Ideas Best of Benzinga