Barron's Picks And Pans: General Motors, Hess, Biotechs And More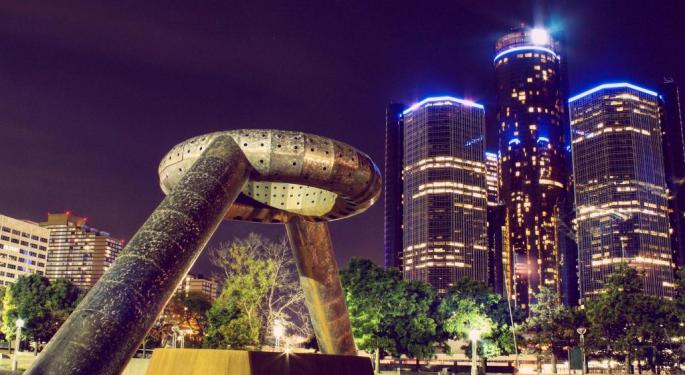 This weekend's Barron's examines the impact that ongoing streamlining may have on one of the Big 3 automakers.
Other featured articles offer a peek at the prospects for an oil company and for an automotive seating supplier.
The outlook for biotechs in 2017, and one buyout candidate in particular, are also examined.
"GM Shares Could Drive 35% Higher" by Jack Hough points out that with CEO Mary Barra at the reins, General Motors Company (NYSE: GM) has streamlined operations. If the Detroit automaker sheds Opel in Europe, it could free up $1 billion in yearly cash and focus on profitable markets. See why Barron's believes GM shares could rise to $50 apiece in that scenario.
In "Hess Shares: Less Appealing Than They Look," Leslie P. Norton takes a look at why Hess Corp. (NYSE: HES) may have undergone a massive overhaul in the past five years, but the improvement isn't enough to offset the drop in prices from shale production. To some investors the stock may look undervalued, but Barron's feels betting on it could lead to disappointment.
David Englander's "Auto Parts Maker Adient Could Have 35% Upside" makes the case that though Wall Street cheered the spinoff of Adient PLC (NYSE: ADNT) from Johnson Controls, shares still look undervalued and could rise smartly in the next couple of years. The world's largest maker of automotive seating is based in Dublin, but find out why Barron's sees its future in China.
See also: The Century-Old Index: How A Basket Of Companies Turning 100 In 2017 Is Performing Against The Market
The maker of drugs to treat rare diseases has been punished by investors but looks set to recover, according to "Takeover Candidate Alexion Is on the Mend" by Johanna Bennett. Despite mixed fourth-quarter results, a full-year revenue forecast that was better than expected and a $1 billion stock buyback provide reassurance on Alexion Pharmaceuticals, Inc. (NASDAQ: ALXN).
In Leslie P. Norton's "Why Biotech Looks Like a Good Bet in 2017," the hedge fund manager of Perceptive Life Sciences is interviewed. Joseph Edelman shares his thoughts on looking for future winners among small-cap and mid-cap biotechnology companies. Will the potential end of the ACA or president's criticism of drug prices have much impact? He also offers some current picks.
Also in this week's Barron's:
A tale of two Trumps
Whether this is as good as the Trump market gets
Whether markets at record highs signal looming inflation
The tech winners in future phones
The case for macro funds
Whether to favor big bank or small bank ETFs
Why small business favors Trump--so far
How global dividends fared in 2016
Why the markets are ignoring Washington turmoil
Keep up with all the latest breaking news and trading ideas by following Benzinga on Twitter.
Posted-In: Adient Alexion Barron's General Motors GM hess Barron'sMedia Best of Benzinga
View Comments and Join the Discussion!