Barron's Recap: How Nelson Peltz Does It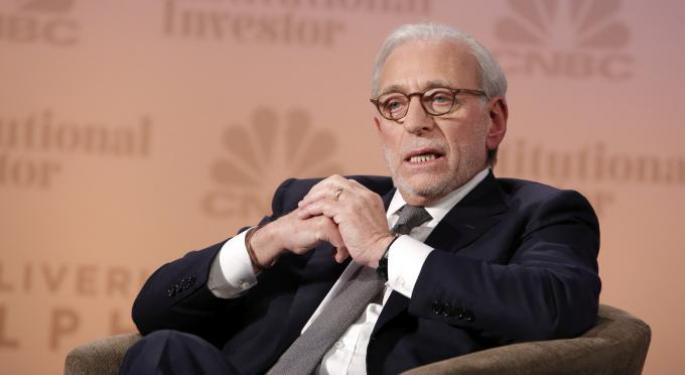 This weekend in Barron's online: how activist investor Nelson Peltz gets results, this year's top advisor teams, as well as the prospects for Chipotle Mexican Grill, Harley-Davidson, Greece and more.
Cover Story
"The Peltz Prescription" by Jonathan R. Laing.
Nelson Peltz was an activist before the term was popular, says this week's Barron's cover story. While his targets now may be bigger, such and DuPont and Pentair, his goal is the same: to cut costs and boost sales.
The article takes a look at some of past successes of Peltz and Trian Partners, as well as their prescriptions for some big companies that have lost their way.
See also: Dick Costolo's Farewell Op-Ed
Feature Stories
"Three Investment Teams Win for Their Clients" by Steve Garmhausen points out that investors who use financial advisors increasingly want more than just advice on investments. Check out Barron's annual look at the best teams in the industry.
Carl B. Weinberg 's "A Greek Default Could Hammer Bonds" suggests that eurozone governments will have to cover some $370 billion in losses if Greece rejects a bailout. See why that would be very bad news for the debt markets.
In "Chipotle Losing Its Spice," Jack Willoughby takes a look at the new challenges that the groundbreaking restaurant chain faces as it tries to grow. See why Barron's thinks shares of Chipotle Mexican Grill, Inc. (NYSE: CMG) could lose another 15 percent or more.
Harley-Davidson Inc (NYSE: HOG) is taking advantage of a 15 percent pullback in shares to ramp up buybacks, says "Harley-Davidson Could Roar to 30% Gains" by Jack Hough. See what headwinds facing the motorcycle maker have subsided.
In David Englander's "A Bounteous Season for Stock-Picking," see how Barron's 40 bullish picks from the past 12 months have handily beaten the S&P 500, with help from banking stocks. The article includes a value-investing primer, comparing Buffett to Graham.
"Fidelity's Property Master" by Crystal Kim offers a profile of Steve Buller. Discover how Buller's encyclopedic knowledge of real estate investment trusts (REITs) has helped to power the Fidelity Real Estate Investment Portfolio past most of its peers.
Justin Walters and Paul Hickey, co-founders of Bespoke Investment Group, are interviewed in Lawrence C. Strauss's "Fans of Facebook and Netflix, but Wary of Apple." Find out why they see better times ahead for large-cap stocks and housing. They also name some of their current picks.
In Penta Article" Silicon Valley's VC Fund for Charities," Robert Milburn examines Legacy Venture. This low-cost venture capital fund of funds invested early in Facebook, LinkedIn and Uber, but all for the benefit of charities.
"A Blighted Decade: Whose Domain Is It, Anyway?" is an editorial commentary by Scott Bullock and Nick Sibilla that claims that though property rights were undermined by the Supreme Court 10 years ago, the struggle against excessive use of eminent domain continues.
Follow-up article "Puerto Rico's Debt Offers High Yield and High Risk" says that after the commonwealth's governor warned that the island's debt is unpayable, municipal bond investors should approach with caution.
In Barron's Asia: "Shanghai's Latest Threat: Margin Calls" by Shuli Ren makes the case that while the volume of margin loans to buy hot mainland stocks has soared this year, the market's recent plummet means many loans may be pulled.
See also: A Citizen's View Of Greece From The Ground
Columns
Columns in this weekend's Barron's discuss:
Why Greece will stay in the eurozone
Why China's stock market doesn't work
Why it is time to buy utility stocks
A backlash against share buybacks
How acquisitions could hurt Avago, Facebook and Microsoft
How the Ave Maria Catholic Values fund stands its ground
Picking dividend ETFs with care
Books "Television Is the New Television" and "Rational Expectations"
The record payout boom
At the time of this writing, the author had no position in the mentioned equities.
Keep up with all the latest breaking news and trading ideas by following Benzinga on Twitter.
View Comments and Join the Discussion!
Posted-In: avago Barron's Chipotle Mexican Grill Facebook Harley-DavidsonTop Stories Media Trading Ideas Best of Benzinga