Barron's Recap: Airline Stocks Ready To Soar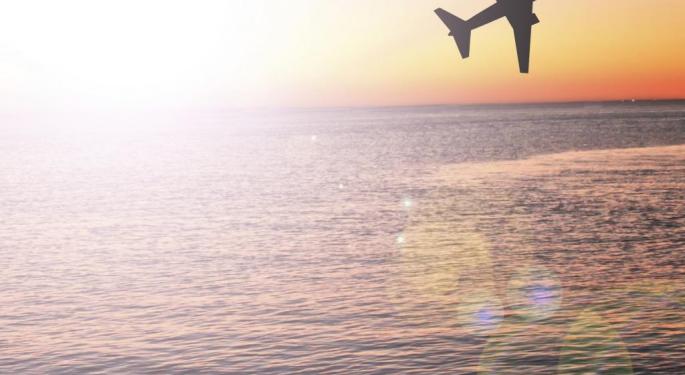 This weekend in Barron's online: airline stocks ready to take off, the 50 best annuities in America, mega vacations of the super wealthy, as well as the prospects for Merck, Nintendo, the Bio-Reference Labs buyout and more.
Cover Story
"Airline Stocks Could Soar Up to 50% in a Year" by Jack Hough.
Some major domestic airlines may see their shares rise sharply in the next year as profits soar on lower fuel costs and higher fares, according to Barron's latest cover story. See why American Airlines Group Inc (NASDAQ: AAL) is Barron's top pick.
See also: Could Twitter Be Worth $100 Billion To Google? Analysts Weigh In
Feature Stories
"The Best Annuities" by Karen Hube suggests that investors have come to realize what academics have long preached. That is, fixed-income annuities outshine all retirement income options. See Barron's ranking of the 50 best annuities in America.
Avi Salzman's "Merck's New Drugs Could Produce Big Profits" makes a case for shares of Merck & Co., Inc. (NYSE: MRK) to return up to 25 percent as treatments for cancer, Alzheimer's and other illnesses come to market. See why the pipeline of promising new drugs more than offsets the drag from patent expirations
In "Nintendo Gets Back in the Game With Smartphones," Alexander Eule says that Japanese video game pioneer Nintendo could see a long overdue revival of earnings, as well as a boost in shares, due to its moves to branch out into smartphones and theme parks.
The Opko Health Inc. (NYSE: OPK) buyout of Bio-Reference Laboratories Inc (NASDAQ: BRLI) makes Barron's uneasy, according to "Misgivings About a Health-Care Merger" by Bill Alpert. See why Barron's has been skeptical about both companies.
In Lawrence C. Strauss's "Value Hunter's Trophies: AmEx, Carnival, Stanley," Mark Giambrone, managing director at Barrow, Hanley, Mewhinney & Strauss, is interviewed. Giambrone says he sees opportunities as more stocks trade in a narrow valuation range, and he shares some of his picks.
"Scoring With Blue Chips" by Daren Fonda offers a profile of Mark Donovan, a value manager for the John Hancock Disciplined Value fund. Find out why Donovan likes high-quality dividend-paying stocks and respects the market's ability to surprise investors.
Edward Jones financial advisor Troy Nelson offers his best advice in Steve Garmhausen's "A Time for Defensive Thinking." Investors face a tough period, says Nelson, but cyclical trends point to good news for Europe, emerging markets and the oil patch.
Check out Penta article "The $120,000 Family Jaunt," in which Robert Milburn finds out more about large, wealthy families who pull out all the stops when planning an educational trip, with the help of a London travel advisory that assembles elaborate, multiyear vacation plans.
"Doing the Numbers" is an editorial commentary by Thomas G. Donlan that takes a look at the past, present and future prospects for the U.S. experiment.
Follow-up article "HCA's Earnings Outlook Could Lift Stock Higher" looks at why HCA Holdings Inc (NYSE: HCA) and Realogy Holdings Corp (NYSE: RLGY) are ready to take off, and has a look at the global rise of Hudson's Bay.
In Barron's Asia: "Why Asia Isn't Immune to Global Bond Volatility" by Kopin Tan takes a look at how unruly rates in the United States and Europe can rattle Asia, with its exports weak and local markets still reliant on foreigners.
See also: 8 Reasons To Invest In Taiwan
Columns
Columns in this weekend's Barron's discuss:
Whether the first Fed rate hikes will hurt the stock market
The significance of the stock market pause
What is next for Fitbit Inc (NYSE: FIT)
The surge in tech M&A speculation
Whether balanced funds are the better option
The hidden costs of bond exchange traded funds
The past week's dividend hikes
The outlook for Raven Industries, Inc. (NASDAQ: RAVN)
The latest CBO study on federal debt growth
Overturning the $5.7 billion settlement against credit card giants
At the time of this writing, the author had no position in the mentioned equities.
Keep up with all the latest breaking news and trading ideas by following Benzinga on Twitter.
View Comments and Join the Discussion!
Posted-In: American Airlines Barron's Bio-Reference Laboratories Fitbit HCA Hudson's Bay merckMedia Best of Benzinga