Barron's Recap: Is Now The Time To Sit On Cash?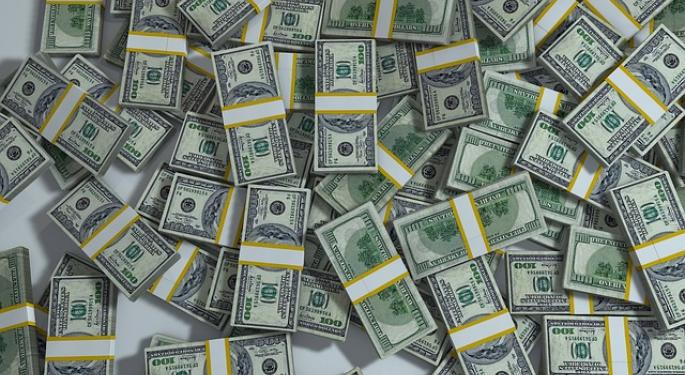 This weekend in Barron's online: where to invest cash now, a good time to be a small investor, as well as the prospects for a Google dividend, Vulcan Materials, Valmont Industries, Sinopec, American Express and more.
Cover Story
"Private Bank Survey: Where to Invest Cash Now" by Karen Hube.
America's top 40 asset managers predict a grind in 2015, says this week's Barron's cover story.
"We think stocks are going to deliver reasonable returns. The problem is, you're not going to get return from bonds, so we've put some risk mitigation into cash," says one expert quoted in the article.
See who is quietly parking cash in "cash equivalent" short-term fixed-income instruments. A full table of cash positions hidden in fixed income is included with the article, the outcome of Barron's annual asset-allocation survey.
Feature Stories
"Google: Time to Return Cash to Shareholders" by Andrew Bary Eule makes the case for Google Inc (NASDAQ: GOOGL) shares to rise between 5 percent and 10 percent overnight, if only the technology giant would announce a dividend and share buyback program.
See also: What's Google Doing In Seoul, South Korea?
Robin Goldwyn Blumenthal's "Vulcan Materials Cements the Case for a Recovery" suggests that even though asphalt and aggregates seller Vulcan Materials Company's (NYSE: VMW) was hurt by the housing bust, the company appears to be on the rebound.
In "Valmont Sees Fertile Grounds for Growth," David Englander discusses why Omaha-based small-cap utility poles and irrigation systems maker Valmont Industries, Inc. (NYSE: VMI) is expected to see a recovery in its earnings in 2016.
Small investors really do get good prices from brokers and market makers, according to Bill Alpert's "The Little Guy Wins!" Barron's spent months analyzing the data, and see what they found out and why the retail trader has never had it better.
Check out "Stocks Over Bonds," in which Simon Constable profiles Brad Kinkelaar, who manages the $820 million Pimco Dividend and Income Builder fund. Despite the considerable experience his firm has in fixed-income investing, Kinkelaar casts a wide net for an eclectic portfolio.
In Reshma Kapadia's "Betting on the Consumer -- Without Buying Retail," TIAA-CREF managing director Saira Malik is interviewed. Find out why the Head of Global Active Equity Portfolio Management is focused mostly on the international consumer.
This Florida advisor loves to study the past, according to "Merrill's Patrick Dwyer Reads the Numbers" by Steve Garmhausen. But check out the article for Dwyer's best advice on why current probabilities, not history, shape his strategy for his Merrill Lynch clients.
Avi Salzman's "American Express Could Rally 15%" indicates that even though shares were clobbered when American Express Company (NYSE: AXP) lost an exclusive deal with Costco and lost a lawsuit, there still may be plenty of avenues for growth.
Barron's Asia article "Sinopec Is the Best of China's Big Oil Plays" by Thomas Streater takes a look at why Asia's largest refiner, China Petroleum & Chemical Corp (ADR) (NYSE: SNP) offers attractive valuations, exposure to rising fuel demand and a 4 percent yield.
"Saving Lives, One Shot at a Time" is an editorial commentary by Thomas G. Donlan that discusses how immunizations have raised unwarranted suspicions.
See also: March 9 To Bring More Apple Watch News, Citi Predicts
Columns
Columns in this weekend's Barron's discuss:
Why pension funds wait-and-see on Nasdaq
The difference between corporate raiders and activist investors
The next potential takeover targets in technology
A value fund that aims to balance risk and reward
The downside of the Russell 2000's annual rebalancing
Reforming the financial services industry to put customers first
A new form of quantitative easing
Poverty is relative -- secrets of the superwealthy
Home Depot and others hiking dividends
Creating customized trading venues in the cloud
At the time of this writing, the author had no position in the mentioned equities.
Image credit: Public Domain
Posted-In: American Express Barron's Google dividend home depot Sinopec Valmont Industries Vulcan MaterialsMedia Best of Benzinga
View Comments and Join the Discussion!