Barron's Recap: The Bull Will Be Back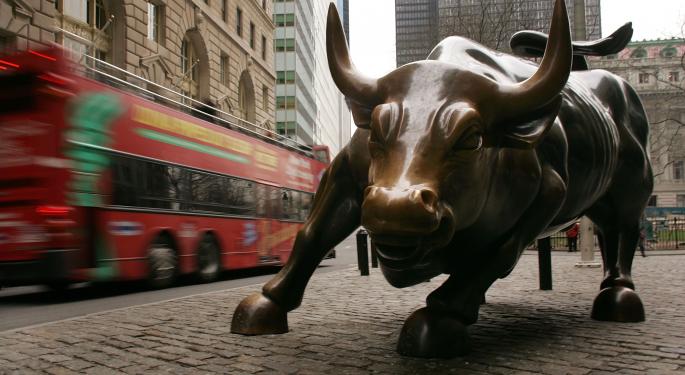 This weekend in Barron's online: the Big Money Poll, Barron's Asia debuts and investment ideas from the best of the best advisors, as well as the prospects for CBS, Zurich Insurance, Western Digital and more.
Cover Story
"The Bull Will Be Right Back" by Jack Willoughby.
In the latest Big Money Poll, U.S. money managers tell Barron's that after a necessary respite, stocks will soon resume their rise. Check out this week's cover story to find out why the poll respondents are upbeat in the face of slowing economic growth in key parts of the world, an impending change in Federal Reserve policy and even a possible Ebola pandemic.
See also: Sometimes You Need To Close Your Eyes And Buy
Letter From The Editor
Edwin A. Finn Jr., Barron's president and editor, lauds the "Successful Launch for Barron's Asia." The new Barron's site focused on Asia has debuted with stories about Alibaba, Hutchison Whampoa, Mark Mobius and Sony.
Feature Stories
"Secrets of the All-Stars" by Steve Garmhausen offers a look at the cream of the crop among financial advisors. These 15 advisors each made the Barron's Top 100 list for 10 consecutive years, and in this article they offer some of their best investment ideas.
Avi Salzman's "Stock-Market Bargains Abound After Last Week's Selloff" suggests that while business fundamentals are improving, valuations still look like a bargain. See which five stocks Barron's thinks look attractive now.
In "A 25% Gain at CBS," Alexander Eule points out that worries about soft ad sales are partly to blame for the stock's decline from its highs in the spring. However, CBS Corporation (NYSE: CBS) CEO Les Moonves has uncovered new sources of revenue.
Despite solid insurance results and a hefty payout, this insurer has faced setbacks, says "Zurich Insurance: Time for Growth" by Jonathan Buck. The article shows how it could get a boost from better investment returns and why it may be a key stock for risk-averse investors.
See "Disk-Drive Wild Card" for Jack Hough's take on why Western Digital Corp (NASDAQ: WDC) is a cheap way to gain exposure to big data. What is the wild card that could lift the disk drive maker's earnings this year?
In Amy Feldman's "Shelter From the Storm at a Franklin Mutual Fund," two of the co-managers of the Global Discovery fund are profiled. See how the fund has outperformed by looking for companies that are selling below their intrinsic values.
Janus Contrarian fund manager Dan Kozlowski is interviewed in Ben Levisohn's "Searching for Stocks at the Sweet Spot of Change." Kozlowski discusses his firm, the market and what he thinks makes a contrarian investor. He also shares some of his current picks.
"A New Face of War" is an editorial commentary by Thomas G. Donlan that discusses how the "guns of August" gave way to the "shovels of October."
See also: EXCLUSIVE: Lenovo Could Make An Offer For BlackBerry As Early As This Week
Columns
Columns in this weekend's Barron's discuss:
A panic in the markets -- 27 years ago
Good stocks that got cheaper in the sell-off
Apple's announcement of the latest iPad
Trading platforms for the U.S. options market
Comparisons of the iPhone 6 Plus and the iPad mini
How to evaluate the best funds for a volatile market
Which exchange traded funds to own in a volatile market
Last week's dividend hikes
A cereal maker that looks appetizing after the sell-off
The controversial Noble prize for economics award
Whether Obama's Watergate has been identified
Online Exclusives
Barron's online exclusives this weekend include:
"Schlumberger Stock Looks Cheap" by Teresa Rivas. Shares of Schlumberger Limited (NYSE: SLB) stumbled along with the rest of the energy sector as the price of oil fell to multiyear lows, but an upbeat third-quarter earnings report from the oil-services giant gave shares a boost. Barron's takes a look at whether the stock can rise higher, despite the energy glut.
At the time of this writing, the author had no position in the mentioned equities.
Keep up with all the latest breaking news and trading ideas by following Benzinga on Twitter.
Posted-In: Barron's CBS Schlumberger western digital Barron'sMedia Best of Benzinga
View Comments and Join the Discussion!