Barron's Cover Story Possible Driver Of PepsiCo Movement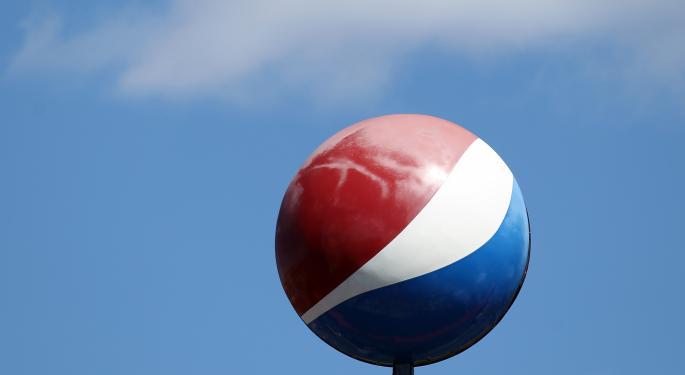 Since August 1, PepsiCo (NYSE: PEP) has had a solid rally from $87.46 to a new all-time high on Tuesday at $93.51.
The possible main catalyst for the rally on Monday was PepsiCo being on the front cover of Barron's over the weekend, where a case was made for splitting up the company into two separate units.
This is not really new news, as activist Nelson Peltz has been pushing the company for months to spin-off Frito-Lay, its snack business, claiming it could boost the shares by 50 percent or more.
At this time, management has ignored his suggestion to boost the value of his large investment in the company. With the recent moves by Coca-Cola (NYSE: KO) to enhance shareholder value, the spotlight is on PepsiCo to do the same.
Barron's is one of the leading publications for traders and investors. Companies that get cover stories followed by a positive or negative piece in the weekly edition often see movement.
Related Link: U.S. Steel Shares Are Golden In August
Better known to shorter-term traders as the "Barron's pop" or Barron's drop," issues can begin moving off of the Barron's coverage as early as the 4 a.m. Monday and throughout premarket trading. That momentum can often carry over into the regular session.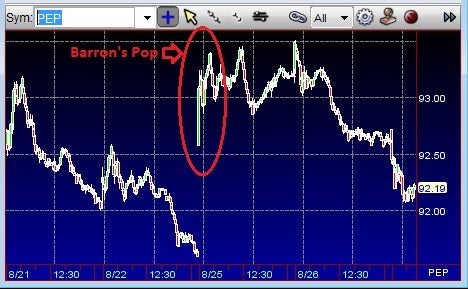 Photo courtesy of Neovest
Reaction In The Premarket
In the case of PepsiCo, the first shots were fired around 8 a.m., when it traded higher by $1.43 from Friday's close of $91.60. From there, it traded light volume in the $92.00 handle before beginning the regular session at $92.61.
After that, it was lights out for the shorts as PepsiCo raced to a new all-time high at $93.45 by noon and finished the day at a new all-time closing high of $93.19. On Tuesday, calmer heads prevailed as the Street realized the split-up was not imminent and PepsiCo was not going to immediately increase in value by 50 percent.
Sellers once again congregated at the $93.50 level on Tuesday and put a double top in place ($93.45 and $93.51) before backing off to close at $92.60. In Wednesday's session, the weakness continued, and PepsiCo is moving back toward Friday's close ($91.60) as it trades in the lower-$92 handle.
String Of Earnings Beats
No one can argue that the company has not been getting it done on the earnings front. In fact, it has beat Wall Street estimates for EPS in each of the last eight quarters. In its most recent report on July 23, PepsiCo reported EPS of $1.32, where estimates were at $1.23, and beat on revenues by $100 million ($16.89B vs. $16.79B).
Analysts' Take
The earnings beat has not inspired much action from Wall Street analysts. Of the seven analysts that have commented on PepsiCo since the cover story, five have maintained their positive or neutral rating and modestly increased their price targets, many of which are near or slightly above its current price. The Street high targets reside with BTIG, which has a Buy rating and $108 price target, and Stifel Capital, with a $106 price target. How Peltz foresees a price increase to $138 has yet to be confirmed by the Street.
One Strategy To Play Upside
From a technical perspective, the pullback off the all-time highs is healthy for PepsiCo. As the breakout traders lick their wounds and sell into the modest decline, they will find willing buyers who are waiting for the split-up to come to fruition, or for the company to find another way to increase shareholder value by raising their dividend or buying back more stock.
Posted-In: Barron's Nelson Peltz Barron'sTechnicals Media Trading Ideas Best of Benzinga
View Comments and Join the Discussion!