Barron's Recap: Sunny Skies For Home Depot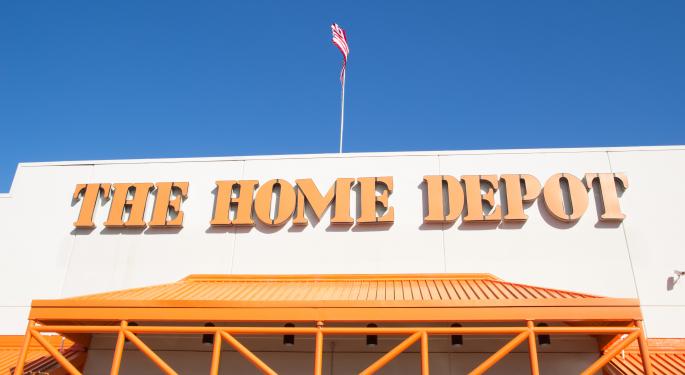 This weekend in Barron's online: why it is time to buy Home Depot, the 100 best financial advisors in the United States, as well as the prospects for Raytheon, Sarepta, ClubCorp and more.
Cover Story
"Sunny Skies Over Home Depot" by Avi Salzman.
As the housing market revives, shares of Home Depot (NYSE: HD) could rally 25 percent, says this week's cover story in Barron's. After an unusually harsh winter, the nation's largest home-improvement chain is prepared for high demand.
But the stock has underperformed the S&P 500 in both 2013 and so far this year, and it also underperformed rival Lowe's (NYSE: LOW) last year. But, as the article details, there are hopeful signs of a turnaround.
See how Home Depot got started and how it fared through the housing bust. See what analysts forecast for earnings this year and for long-term growth. The article shows how the company stacks up, not only against rival Lowe's, but against Blue Chips and against other retailers. A graphic sidebar provides a look at the numbers, as well as evidence of the housing recovery.
See also: 3 Retailers Ready For Spring And Summer
Feature Stories
"America's Top 100 Financial Advisors" by Steve Garmhausen presents the results of Barron's annual ranking of the best financial advisors and their top recommendations. See the 20 names that are new to the list and the 15 that are always on it.
Jack Hough's "Expensive but Worth It: Google, Red Hat" suggests that though momentum stocks have taken a big hit recently, that does not mean it is time to buy. See why Amazon.com (NASDAQ: AMZN), Netflix (NASDAQ: NFLX) and others still may be too pricey.
In "Raytheon Plays Offense as Defense Tightens," Sandra Ward discusses how defense contractor Raytheon (NYSE: RTN) has a hot hand in cybersecurity and also sells lots of missile systems overseas. See why upside for the stock may be as much as 30 percent.
Shares of orphan drug maker Sarepta (NASDAQ: SRPT) could soar, suggests "A High-Profile Decision for the FDA" by Andrew Bary. All it needs is for the U.S. Food and Drug Administration to OK the company's drug for Duchenne muscular dystrophy.
"Smead Value: Worth the Wait" by Sarah Max offers a profile of William Smead of Smead Capital Management. He shares why he is willing to wait for the stocks of companies that provide customers with products they cannot live without.
In Lawrence C. Strauss's "Rob Arnott: Demographics Are the Markets' 800-Pound Gorilla," the chairman and CEO of money manager Research Affiliates is interviewed. Arnott indicates that demographics is one big reason why he now likes emerging markets for the long term.
Even though shares are up 30 percent since its initial public offering, golf-course and country-club operator ClubCorp (NYSE: MYCC) looks ready to bound still higher, suggests David Englander's "Why ClubCorp Could Stay on the Leaderboard."
In "CEO Spotlight: Cisco's John Chambers" by Dyan Machan, the focus is on the current state of technology, as well as on Chambers' strategy to return Cisco Systems (NYSE: CSCO) to its leadership position.
"Progress or Progressivity" is an editorial commentary by Thomas G. Donlan that suggests that growing inequality is not as dangerous as doing something about it.
See also: Benzinga Weekly Preview: Earnings Season Kicks Into High Gear
Columns
Columns in this weekend's Barron's discuss:
The campaign to avenge Sergei Magnitsky's death
The stock market versus the bond market today
The impact of tech earnings after the sell-off
Two sites that offer investment themes
New iPhone challengers from Samsung and HTC
Hidden risks in high-yield bond funds
The best way to find value exchange traded funds
The dividend hike at Whirpool (NYSE: WHR)
How Heartbleed affected traders and exchanges
Online Exclusives
Barron's online exclusives this weekend include:
"The Value Haircut." In Penta's tirelessly hunt for value, it recently sought the best value men's haircut in Manhattan. What they found ranged from $4 to $1,200, but not all of them offered a fairly priced haircut executed by a well-trained barber. Check out the video to find out who offered the best value haircut in New York, as well as to discover its tie to J.P. Morgan.
Keep up with all the latest breaking news and trading ideas by following us on Twitter.
Posted-In: Amazon Barron's Cisco Systems ClubCorp Google HeartbleedMedia Trading Ideas Best of Benzinga
View Comments and Join the Discussion!