Barron's Recap: The Tech Bust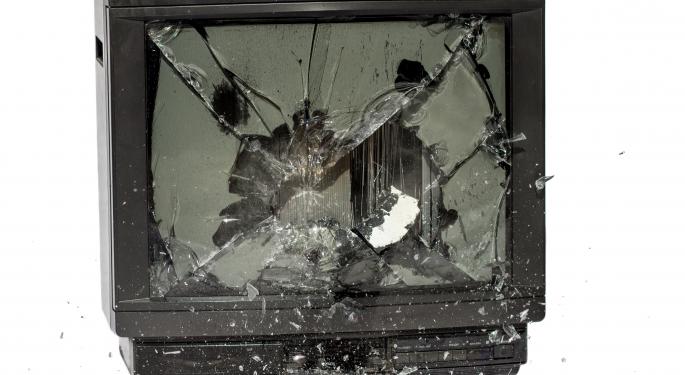 This weekend in Barron's online: why the tech bust should be no surprise, a special report on retirement, as well as the prospects for Caesars Entertainment, Lands' End, 3D printers and more.
Cover Story
"The Highfliers Are Still Too High" by Andrew Bary.
Though Internet and biotech stocks are melting down, most of the market looks fine, says this week's cover story in Barron's. This should come as no surprise, as Barron's warned about this very thing back in November.
One expert quoted in the article said: "My guess here is that we're having a valuation adjustment in one small part of the market, in the high-flying momentum stocks that got ahead of themselves and are now correcting."
See why some of the best values may lie among large stocks, such as Apple (NASDAQ: AAPL), Google (NASDAQ: GOOGL), Morgan Stanley (NYSE: MS) and others.
See also: Short Interest in Groupon, Twitter On The Rise
Feature Stories
"Financial Bigs Face Off in the Ring at Caesars" by Andrew Bary focuses on the impending battle between bondholders and private equity firms Apollo Global (NYSE: APO) and TPG. See why Caesars Entertainment (NASDAQ: CZR) shareholders likely will get bloodied
Jacqueline Doherty's "Land's End: Gloomy Outlook for Sears' Spinoff" suggests that sportswear retailer Lands' End (NASDAQ: LE), following its recent spin-off from Sears Holdings (NASDAQ: SHLD), could be hampered in its quest for growth.
In "Credit Nerds at the Core," Amy Feldman profiles Christopher Towle and Steven Rocco, who are portfolio managers of the Lord Abbett High Yield fund. They find opportunities in bonds that have credit quality and financial strength that indicates they may be upgraded.
Mike Avery and Ryan Caldwell, co-managers of the Ivy Asset Strategy Fund, are interviewed in "Finding Growth Stocks in a Shaky Market" by Lawrence C. Strauss. See why they like the odds for some Macau gaming companies and for CBS (NYSE: CBS).
"The Whodunit Advisor" by Alexander Eule features the best advice from Marvin McIntyre of Morgan Stanley. McIntyre not only advises celebrities and others, but he also writes thrillers set on Wall Street and in Washington D.C.
In David Englander's "CEO William Stiritz Charts a Tasty Future for Post," see how an acquisition strategy focused on active nutrition has taken food producer Post Holdings (NYSE: POST) well beyond the cereal aisle -- and it has racked up rich returns.
Steven Murphy, the chief executive officer of fine arts auction house Christie's International, discusses his London-based firm's strategy, successes and prospects in Penta article "At Christie's, an Artful Approach."
"3-D Printing Stocks Still Have Far to Fall" by Alexander Eule explains why Barron's remains bearish on 3D Systems (NYSE: DDD) and other 3D printing companies. This is a follow-up to a recent Barron's cover story.
"Invisible Spending" is an editorial commentary by Thomas G. Donlan that suggests that just because you cannot see tax expenditures does not mean they don't hurt.
See also: Is It Time To Sell The Rips Instead Of Buying The Dips?
Special Feature: Investing in Retirement
In "Retirement: Finding Right Income Investments" by Sarah Max, the article indicates that while higher interest rates are great for income investors, what investors should do on the way there requires strategy. Three veteran investors offer guidance.
Jack Hugh's "Social Security: Is the Best Age to Take It 62, 66, or 70?" makes the case that Social Security provides the best rate of return for retirees today. See how maximizing your benefits is as important as managing your investments.
Columns
Columns in this weekend's Barron's discuss:
Who is behind stocks' latest swoon
Whether the bull market in stocks is nearing an end
Tech stocks worth a second look after the sell-off
The House Ways & Means Committee chairman's old-fashioned Republican tax plan
Online brokers offering an alternative to high-speed trading
How to make tightly focused early-stage investments on the Web
Spiking fees that mutual fund companies pay
The best Japan exchange traded funds
The latest Procter & Gamble (NYSE: PG) dividend hike
Smartphone-controlled backyard drones
Keep up with all the latest breaking news and trading ideas by following us on Twitter.
Posted-In: 3D Systems Apollo Global Apple Barron's Caesars Entertainment CBS Christie'sMedia Best of Benzinga
View Comments and Join the Discussion!