Barron's Recap: Detroit Will Rise Again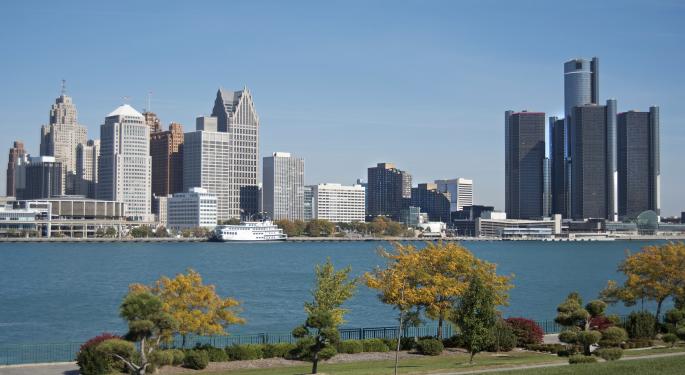 This weekend in Barron's online: how to fix Detroit, an ETF special report, the annual ranking of online brokers, as well as the prospects for Matson.
Cover Story
"How to Fix Detroit" by Jonathan R. Laing.
Though it will cost bondholders dearly, Motown has a shot at a second chance, says this week's cover story in Barron's.
Last November, Warren Buffett attended a press conference to announce the rollout of a Goldman Sachs grant of $20 million to promote entrepreneurship in Detroit. Highly successful online mortgage lender Quicken Loans has moved from the suburbs to downtown, and founder Dan Gilbert sees signs of a revival.
However, the article points out, before any real turnaround can begin, Detroit must come to terms with its woeful finances. See how things stand now and who is spearheading the turnaround efforts. See who will be the winners and losers among municipal bondholders.
And see why Detroit is better off than Newark, N.J., or Gary, Ind., and could be the American version of Manchester in the U.K. or Leipzig in Germany.
See also: How Much Could Michigan Gain In Marijuana Tax Revenue?
Feature Stories
"Why Skepticism Pays in ETFs" by Brendan Conway is an ETF Special Report. In the article, exchange traded fund experts offer suggestions for what investors should do to keep up with the plethora of new ETF offerings.
Theresa W. Carey's "When All Screens Lead to the Bull" features Barron's 19th annual ranking of the best online brokers. See how the likes of Interactive Brokers, tradeMonster, Place Trade and TD Ameritrade fared.
In "Where the Stock Market's Bargains Are," Andrew Bary discusses why the financial and energy sectors stand out as places to search for undervalued shares in this record-high stock market. What are the cheapest stocks in the S&P 500?
See which four companies should shine as corporate spending shifts from repurchases to reinvestment, according to Jack Hough's "Profit From the Next Spending Wave." Warren Buffett foreshadowed this new investment trend in his annual letter to investors, released in early March.
"Hawaii's Matson Could Hit a Squall" by Leslie P. Norton asks how much a coral reef is worth? See what uncertainty about shipping company Matson's (NYSE: MATX) financial liability for a molasses spill in Honolulu harbor could do to its shares.
In Sarah Max's "Patience Pays Off," Richard Nackenson, head of Neuberger Berman Multi-Cap Opportunity fund, is profiled. See how he mixes tried-and-true valuation tactics with a willingness to bet on companies that face short-term problems or are in the midst of longer-term turnarounds.
Renowned strategist Jeremy Grantham is interviewed in "Learning to Live With a Stock Bubble" by Lawrence C. Strauss. In the article, Grantham discusses why he views the market as 65 percent overvalued but still sees some pockets of attractive investments.
In "The Foe of Fees" by Steve Garmhausen, financial advisor Peter Rohr offers his best advice. See why he points his clients to exchange traded funds and how he boosts returns by curbing fees and taxes.
Penta article "When Dinner in New York Swings" by Robert Milburn takes a look at three jazz-and-supper clubs for entertaining family or business relations in Manhattan.
Jack Falvey's "The Long Road Back" discusses how former aerospace chief Alan Mulally used management principles he could have learned in middle school to get Ford (NYSE: F) through the financial crisis.
"What Are Dreams Made Of?" is an editorial commentary by Thomas G. Donlan that suggests Elon Musk's dreams are made of tax credits, subsidies and government contracts.
See also: Elon Musk Issues Comment 'To The People Of New Jersey'
Columns
Columns in this weekend's Barron's discuss:
Putin's determination to annex Crimea
What happens to P/E ratios if interest rates stay low
The Chiquita Brands and Fyffes merger
Who will be the winners in sensor technology
Gadget of the week Livescribe Sky WiFi Smartpen
How to choose municipal-bond funds now
Ukraine as a casualty in Obama's carbon war
The week's dividend hikes
Keep up with all the latest breaking news and trading ideas by following us on Twitter.
Posted-In: Alan Mulally Barron's Chiquita Brands Detroit Elon Musk FordBarron's Media Best of Benzinga
View Comments and Join the Discussion!