Barron's Recap: Bad, Bad Wolf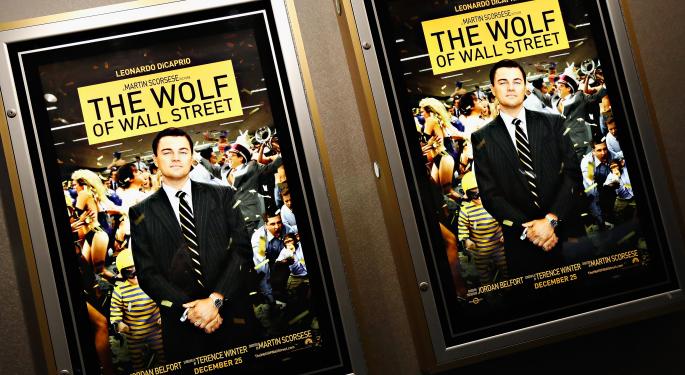 This weekend in Barron's online: a look at Martin Scorsese's new movie. Also, the prospects for American Tower, Ambac, PVH, A.M. Castle and more.
Cover Story
"Good Film, Extremely Bad Wolf" by Farran Smith Nehme.
This week's cover story in Barron's posits that Martin Scorsese's new movie "The Wolf of Wall Street" raises an important question: Will Jordan Belfort ever be forced to repay his victims?
Jordan Belfort was the charismatic penny-stock swindler behind Stratton Oakmont and is the central figure in Scorsese's new film. The movie is based on Belfort's memoir of the same title.
See the article for an outline of the film and how closely it adheres to reality, as far as anyone knows it. Find out what has happened to Belfort since his empire of cocaine, sex and stolen dreams collapsed. And see what part that Belfort plays in the film itself, as well as how some of his victims feel about it.
The article includes a video with clips of the film and an interview with the article's author.
Feature Stories
"Wireless Winner" by Alexander Eule makes the case that American Tower (NYSE: AMT), the country's second-largest real-estate investment trust, has room to grow as wireless demand rises in the Americas. See why shares could climb 20 percent or more.
Jack Willoughby's "Where a Smaller Portfolio Means Bigger Stock Price" points out that Ambac Finanicial Group (NASDAQ: AMBC) got slammed in 2008 and still faces challenges. Yet, the article says, the financial guarantor has upside.
In "Calvin Klein, Meet Again Calvin Klein," Jack Hough suggests that by expanding its Tommy Hilfiger brand and reuniting the Calvin Klein franchises, New York-based apparel company PVH (NYSE: PVH) could boost profits.
A giant of the accounting profession and featured Barron's contributor is the focus of "Remembering Abe Briloff" by Bill Alpert. See how Briloff exposed the funny math that many companies relied on to seem a lot healthier than they were.
"A.M. Castle Puts Pedal to the Metal" by David Englander says that the turnaround plan for metals distributor A.M. Castle (NYSE: CAS) is starting to pay off. Also, news of a potential buyer could push the stock up sharply.
In Andrew Bary's "The Case for Closed-End Funds," it is pointed out that many of these funds are in the bargain bin, though they will not stay there long. More than 90 percent of all closed-end funds trade at discounts to their net asset values.
Delaware Value fund manager Ty Nutt is profiled in Sarah Max's "Creating a Blockbuster." Nutt traded Hollywood for the stock market, and here he shares why his team currently likes Johnson Controls and Broadcom.
Lawrence C. Strauss interviews Atlanta money manager Harold J. Bowen in "Winning Big by Playing Long-Term Trends." Among other things, Bowen shares why he now likes Canadian National Railway and Pentair.
In "Math Maven" by Steve Garmhausen, independent advisor Alyssa Moeder shares her best advice for letting the numbers point the way. See why lately the numbers have been leading to bargains in muni bonds.
"Investing With Your Heart" by Robert Milburn demonstrates a way to invest in companies that are not only doing good but also producing solid financial returns.
"Unmanaged Competition" is an editorial commentary by Thomas G. Donlan in which he suggests a way to make health care into a real economy.
See also: 2014 Planning: Buy Signals To Watch For
Columns
Columns in this weekend's Barron's discuss:
Shares respond to the Fed's promise
Whether the rally can continue in 2014
One triumph and two disasters that kept the media busy
Who won the cloud wars
A value investor who is not ready to retire
The annual rebalancing of SunAmerica Focused Dividend fund
How the Barron's 400 ETF fared this year
Fears that linger despite gains of 2013
The week in dividend hikes and buybacks
How the American economy was built on smuggling
Ideas for last-minute gift giving
See also: Five Books That Make Perfect Holiday Gifts For The Investor
Keep up with all the latest breaking news and trading ideas by following us on Twitter.
View Comments and Join the Discussion!
Posted-In: A.M. Castle Ambac American Tower Barron's broadcom canadian national railway Johnson ControlsMedia Best of Benzinga