Barron's Recap: Watch Out Apple, Here Comes Lenovo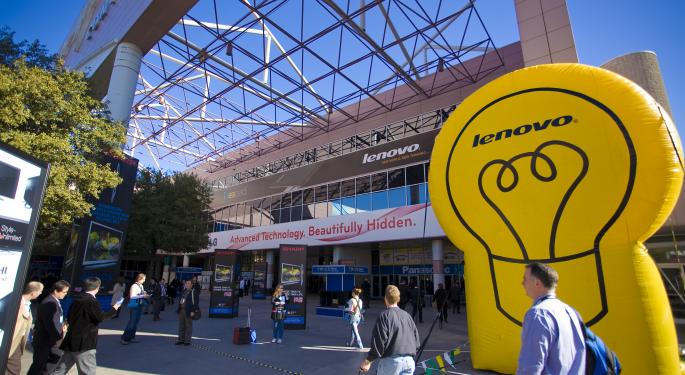 This weekend in Barron's online: how Lenovo is putting the moves on Apple and Samsung, as well as the prospects for Microsoft, Bob Evans Farms and Chinese and Korean stocks.
Cover Story
"Lenovo on the Attack" by Leslie P. Norton.
Lenovo has come out of nowhere to become the global leader in personal computers (PCs), says this week's cover story in Barron's. Now the Beijing-based company has set its sights on Samsung Electronics and Apple (NASDAQ: AAPL) in the smartphone and tablet arenas.
While former PC leaders Hewlett-Packard (NYSE: HPQ) and Dell (NASDAQ: DELL) have struggled for share in smartphones and tablets, Lenovo has claimed the number two spot in China in smartphones -- ahead of Apple. "They've clearly broken away from the pack," says an expert quoted by Barron's.
See how Lenovo grew from a little-known maker of personal computers into the top global PC brand, and how it has begun to make a name for itself in smartphones. See how CEO and Chairman Yang Yuanqing has been a driver behind what Lenovo has accomplished. And see what the company now offers investors.
The article includes a graphic breakdown of Lenovo's revenue by segment and by geographic region, as well as how the stock stacks up, by the numbers, against its largest competitors. And it includes thoughts from not only Lenovo's CEO, CFO and other insiders, but also analysts and portfolio managers.
"If Lenovo can keep growing," said one quoted expert, "they can earn the right to be rated with Apple and Samsung as a sexy consumer electronics player, not just a PC box seller."
See also: Nexus 5 Rumors Explode Following Release of Google YouTube Video
Feature Stories
"It's the Shareholders, Stupid" by Andrew Bary says that the $7 billion Nokia (NYSE: NOK) deal suggests Microsoft's (NASDAQ: MSFT) reputation for overpaying for big acquisitions remains intact. See how a disciplined financial leader could create huge value for shareholders.
Jacqueline Doherty's "Laggards, but Not for Long" points out that industrial companies had a tough time in 2012, but now most of the bad news appears to be behind them. See which ones Barron's thinks are poised to rebound.
In "A Tastier Bob Evans Arrives," David Englander makes the case that remodeling and other new initiatives could boost shares of full-service restaurant operator Bob Evans Farms (NYSE: BOB) by 30 percent or more.
Stocks from markets like China and Korea have trailed their counterparts in the south of Asia since the end of the financial crisis, says Shuli Ren's "Time to Head Back North in Asia?" The article looks at why that is beginning to change.
"Game, Set, Match" by Sarah Max is a profile of John Lekas, portfolio manager of Leader Short-Term Bond fund. Lekas, a tennis player as well as a fund manager, likes risk, but he is careful not to swing blindly. "We're willing to take on some risk," he says, "but only when it pays."
In Lawrence C. Strauss's "Time to Wake Up and Start Paying Dividends," Daniel Peris, portfolio chief at Federated Investors in Pittsburgh, is interviewed. See why Peris thinks Corporate America should be boosting dividends, rather than ramping up stock buybacks.
Dyan Machan's "The Health-Care Reformer" turns the CEO spotlight on Aetna's (NYSE: AET) Mark Bertolini, who discusses why he is preparing the insurance giant for a new, cost-conscious era in American health care.
Check out "Cutting Through the Noise" by John Heins and Whitney Tilson to see how more than two dozen of the country's top value investors weigh in on key elements of the research and decision-making process.
"Wolf at the Door" is an editorial commentary by Thomas G. Donlan that suggests the BRIC countries seem unlikely to withstand much "huffing and puffing."
See also: Restructure Your Energy Portfolio By Finding Trustworthy MLPs
Columns
Columns in this weekend's Barron's discuss:
Unease about the Fed's tapering of quantitative easing
Bets that interest rates have peaked
Mandating higher standards and tighter compliance for the exchanges' technology
An early look at Sony's (NYSE: SNE) PlayStation 4
Why managed-payout funds have failed to gain mass appeal
The craze for "value" ETFs
The rise of part-time employment
A payout for shareholders of Vodafone (NASDAQ: VOD)
Preparing portfolios for the fall political season
A corporate risk scorecard
View Comments and Join the Discussion!
Posted-In: Aetna Apple Barron's Bob Evans Farms DELL emc hewlett-packardMedia Best of Benzinga