Barron's Recap: The Bull Is In Charge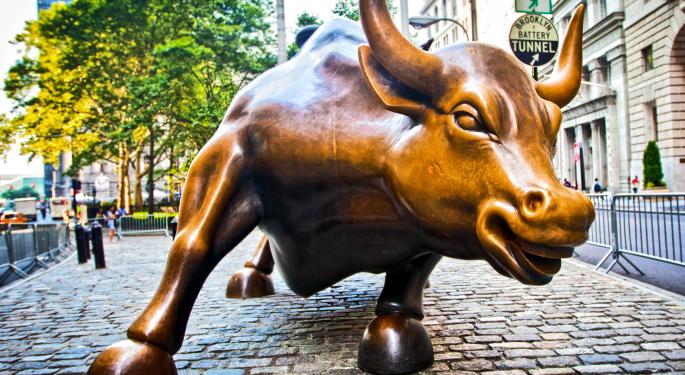 This weekend in Barron's online: the outlook for the market is bullish according to 10 market strategists, and the prospects for Allstate, SolarCity, Pinnacle Entertainment and Carmike Cinemas.
Cover Story
"Fall Market Forecast Looks Sunny" by Vito J. Racanelli.
The Standard & Poor's 500 has risen 14.5 percent so far this year, and Wall Street investment strategists see further gains ahead, both this year and next, says this week's cover story. The 10 market strategists Barron's consulted predict the S&P 500 will see will reach 1700 by the end of the year.
While stalled corporate earnings growth failed to drive stock market gains in the first half of this year, the strategists see profit growth accelerating sharply in the fourth quarter as U.S. gross domestic product (GDP) improves. This is despite rising interest rates and another impending round of federal budget wrangling.
See why the strategists continue to favor technology and industrial stocks, and why financials could also do well. See which sectors they expect to underperform, as well as why they favor cyclical stocks and large-capitalization stocks, given the expected rise in GDP late in the year.
But the consensus of the 10 strategists was not unanimous. The article includes a rundown of each strategist's predictions for where the S&P 500 will end the year, expected GDP growth in the second half and in 2014, the 10-year Treasury yield, as well as favored sectors and sectors to avoid.
The article also includes a comparison of the current market to the peaks in 2000 and 2007 on several metrics, a look at the returns of individual sectors so far this year and projected into the next, and specific equity and exchange traded fund (ETF) recommendations from each of the 10 strategists.
See also: 17 Labor Day Stock Picks
Feature Stories
"Allstate: 'Good Hands' and Lots More" by Robin Goldwyn Blumenthal suggests that though Allstate (NYSE: ALL) has had to contend with natural and financial disasters, it is making great strides at transforming its business. The stock is still cheap, too.
Avi Salzman's "Dark Clouds Over SolarCity" says that while celebrity entrepreneur Elon Musk adds brings a lot of attention to solar-energy operator SolarCity (NASDAQ: SCTY), there are also questions about the government incentives on which the company relies.
In "Gambling in the Heartland," Jack Hough takes a look at casino operator Pinnacle Entertainment (NYSE: PNK), which is cashing in on baby-boom gamblers in places like St. Louis and Kansas City. See why the stock could rise 30 percent.
Quant pioneer Clifford Asness is interviewed in Lawrence C. Strauss's "The Big Danger: Overreliance on Stocks." See why Asness thinks bonds are expensive yet do not constitute a bubble, and stocks are a little pricey, as well.
"Growth, Yes; Volatility, No" by Sarah Max points out that the Thornburg Developing World fund has reported positive returns in hard-hit emerging markets and shares why the fund considers Qualcomm (NASDAQ: QCOM) a developing-market bet.
In David Englander's "Two Thumbs Up for Carmike Cinemas," see why after its deal-savvy chief executive has turned around movie-theater operator Carmike Cinemas (NASDAQ: CKEC), even more gains could lie ahead.
Steve Garmhausen's "Value Hunter" offers best advice from Andrew Burish of UBS (NYSE: UBS), who scours the world for bargains. Lately Burish has been finding them in Europe. See why he favors stocks with growing dividends.
Penta article "The 'Mid-Caps' of Art" by Robert Milburn features Chad Loweth, a retired hedge-fund manager and an avid art collector. Loweth shuns top-tier works in favor of those in the $30,000 to $75,000 range.
"A Labor Day Lament" is an editorial commentary by Thomas G. Donlan that suggests economic growth comes from investment, rather than from increasing wage rates.
See also: In Defense of the Fast Food Industry
Columns
Columns in this weekend's Barron's discuss:
How President Obama has painted himself into a corner on Syria
Uncertainties about a possible market correction
The SEC's plan for managing technological trading glitches
The labor force participation rate at an all-time low
Yahoo! (NASDAQ: YHOO) and fantasy football
Whether dividend growth trumps yields
Best ETF plays on Europe
A dividend hike and more from FBL Financial (NYSE: FFG)
Whether the war on terror is subverting the Constitution
Wine app BottleStock
At the time of this writing, the author had no position in the mentioned equities.
View Comments and Join the Discussion!
Posted-In: allstate Barron's Carmike Cinemas FBL Financial Pinnacle Entertainment Qualcomm SolarCityMedia Best of Benzinga