Barron's Recap: Fannie and Freddie Will Fade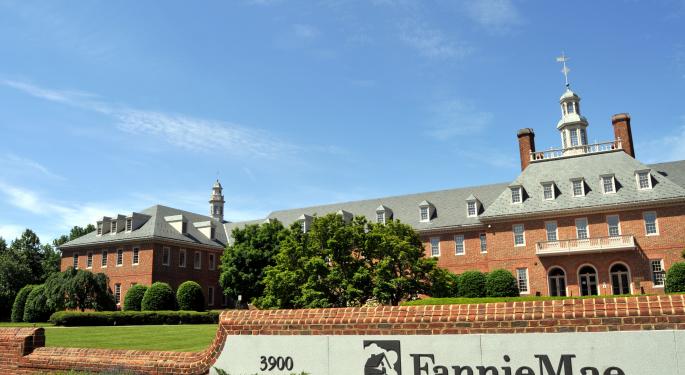 This weekend in Barron's online: a discouraging outlook for the future of Fannie Mae and Freddie Mac, a special report on exchange traded funds (ETFs) and the prospects for Restoration Hardware, Dover and HollyFrontier.
Cover Story
"Fannie, Freddie: On Borrowed Time" by Jonathan R. Laing.
Barron's position is that investors ought to realize mortgage giants Fannie Mae and Freddie Mac will not be coming back. Also, home buyers should understand the alternatives to government-backed mortgages will be more expensive.
See also: Meet The Latest Detroit Investors: The Chinese
It may be true that these two quasi-government agencies own or guarantee repayment on more than half of the $10 trillion in outstanding mortgage debt in the United States. And they are making money again, prompting some hedge and mutual funds to wager that they will survive and eventually offer big payouts. Don't bet on it, says Barron's.
Recent legislative proposals have called for the operations of Fannie and Freddie to be wound down and their charters revoked. See the article for more details on the bills, one from the U.S. House of Representatives and one from the Senate, as well as their potential impact on mortgage rates.
The article discusses how some hedge funds are attempting influence the process, as well as what the likely alternatives to government-backed mortgages might be. It includes a table showing whether Fannie Mae and Freddie Mac were better stewards of capital than Wall Street since before the financial crisis.
An ETF Special Report
"The Benefit of Hindsight" by Sarah Max points out that new rules allow exchange traded products to market back-tested data. However, the article also says, doing so includes murky practices that do not benefit most investors.
Ben Levisohn's "Factor These ETFs into Your Strategy" speculates on why retail investors have been reluctant to embrace factor ETFs, even though these products use market research to isolate the qualities of stocks that outperform.
See also: Interesting Themes Among New ETFs Hitting All-Time Highs
In "No Magic Solution Here" by Chris Dieterich, the efforts to launch a Bitcoin exchange traded fund offers one example of how absurd the frenzy to package assets into ETFs has become. The article recommends wariness.
Financial advisors increasingly are using passive, index-tracking ETFs to implement strategies that are every bit as active as those found in the most aggressive mutual funds, says Corrie Driebusch in "ETF Wolves in Sheep's Clothing."
In Brendan Conway's "Cash Is King ... but Not for ETF Shareholders," it is revealed who benefits when, due to a recent bond-market sell-off that underscored a little-known quirk in the way institutions trade ETFs, sponsors of those funds are force to choose between them and the investor.
Feature Stories
"At Restoration Hardware, No Room for Error" by Jacqueline Doherty suggests that, despite being a big hit with investors since it went public last November, it would not take much to knock down the richly priced shares of home-furnishings retailer Restoration Hardware (NYSE: RH).
Lawrence C. Strauss's "Cooler Than Smartphones" says that diversified machinery company Dover (NYSE: DOV) plans to spin off a glitzy tech unit and refocus on heavy manufacturing. See why that strategy should pay off.
In "A Well-Refined Opportunity," Andrew Bary makes a case that the geographical advantage HollyFrontier (NYSE: HFC) has over its competitors could boost its profit margins and help support its generous dividend yield.
In June, the eurozone saw up its first industrial expansion in 18 months. "How to Play the European Recovery with U.S. Stocks" by Jack Hough suggests that DuPont (NYSE: DD), Ford (NYSE: F) and others stand to benefit from this turnaround.
"Bullish on Obamacare" by Erin E. Arvedlund is a profile of hedge-fund star Larry Robbins, who has made a big bet on hospitals. Robbins is pushing them to repurchase stock or make acquisitions. See why he has his eye on Health Management Associates (NYSE: HMA).
In "Bargains on the Baghdad Exchange," Bill Alpert interviews Geoff Batt and Grant Felgenhauer of the Euphrates Iraq Fund. See why they think Iraq's economy has begun to recover, and why its tiny stock market looks poised to take off.
Jonathan Buck's "No Frills, and No Excuses" turns the CEO spotlight on Michael O'Leary of Ryanair (NASDAQ: RYAAY). This outspoken chief executive not only wants to make air travel affordable for the masses, but to reward shareholders as well.
"Can We Finally Lose Detroit?" is an editorial commentary by Thomas G. Donlan in which he discusses how bankruptcy is only the first step in reclaiming an urban wasteland.
View Comments and Join the Discussion!
Posted-In: Barron's Bitcoin Dover DuPont fannie mae Ford freddie macMedia Best of Benzinga