Barron's Recap: Trouble Ahead at Tesla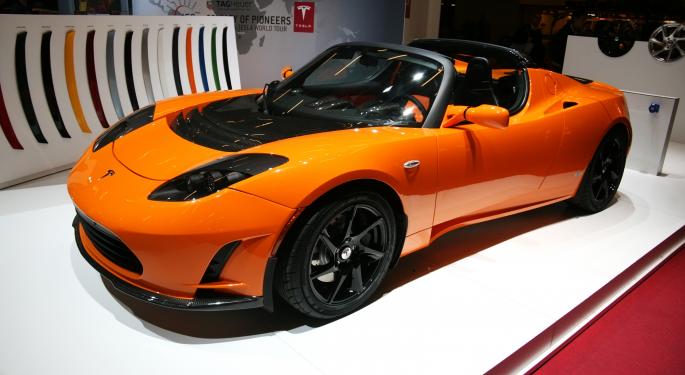 This weekend in Barron's online: the challenges faced by Tesla Motors, the Barron's 2013 ranking of the top 100 women financial advisors, and the prospects for electric utilities, Clean Harbors, Foot Locker and Loral Space & Communications.
Cover Story
"Recharge Now!" by Bill Alpert.
Elon Musk, the entrepreneur behind PayPal, SpaceX and Tesla Motors (NASDAQ: TSLA), told the latter's shareholders at last week's annual meeting that North American sales for the company's electric luxury car could total 15,000 units this year, and eventually may reach 30,000 or 40,000 a year. Not bad for a car with a more than $90,000 sticker price.
Tesla shares surged earlier this year from $35 to $115, which lifted the Palo Alto auto start-up's market value to $14 billion by the end of May. Are Tesla's stock market fans viewing its prospects through 3D glasses, wonders the article. Unless the car soon comes up with a cheaper, stronger battery, the stock "could turn out to be a lemon."
Today's stock price would seem to be a bet that Tesla will be able to sell hundreds of thousands of cars a year. But if the company is to offer a car that costs less than $50,000 by 2016, as promised, there will have to be significant breakthroughs in battery technology. In general, expectations that electric-car battery costs can be trimmed by more than 30 percent by 2016 are low.
See the article for more details on the challenges that face Elon Musk and Tesla, and to learn more about the Model S and the upcoming Model X and Gen III.
Top 100 Women Financial Advisors
"Barron's Top 100 Women Financial Advisors for 2013" by Steve Garmhausen, offers a look at some financial advisors who "consistently deliver sharp insights and excellent service." See why the number one advisor is bullish on stocks.
In "Enjoying the High Wire -- and the Safety Net" by S. L. Mintz, it is suggested that while the stock market has reached new record highs in recent weeks, covered call options can offer protection against a serious correction.
Feature Stories
Andrew Bary's "Slow and Steady Wins the Race" says that, with secure four percent yields, electric utilities offer sensible growth and defensive advantages. So after a pullback of 10 percent, they have become attractive for investors who are income oriented.
Annual revenue at Clean Harbors (NYSE: CLH) has grown by 20 percent for a decade, says Alexander Eule's "One Company's Trash Is Another's Treasure." That is due to its growing dominance in the hazardous waste disposal business. Its stock could rise by 45 percent.
"Foot Locker Has Room to Run" by Jack Hough suggests that, with fewer stores and higher sales per square foot, Foot Locker (NYSE: FL) is delivering for its shareholders. See why the shares of the nation's number one athletic footwear retailer could rise by up to 25 percent.
David Englander's "Loral Shares on the Launch Pad" takes a look at Loral Space & Communications (NASDAQ: LORL), a satellite communications company. The sale of its stake in satellite operator Telesat could boost Loral's value.
In "A Patient Pursuit," Sarah Max profiles J. Luther King Jr. of Luther King Capital Management. See why the firm's LKCM Equity fund is "set to pounce when fear takes hold." The fund's top holdings include ExxonMobil (NYSE: XOM), IBM (NYSE: IBM) and Google (NASDAQ: GOOG).
Money manager Richard Bernstein is interviewed in "Betting That the U.S. Will Beat Emerging Markets" by Lawrence C. Strauss. Bernstein shares why he is bullish on American small-cap and mid-cap banks and industrials. But he views "the less-developed lands" as risky for investors.
Barron's Penta article "Hedge Funds of the Art World" by Crystal Kim points out that art funds are on the rise in a hot market. The article offers advice on what to look for and what to avoid.
"Shock Treatment" is an editorial commentary by Thomas G. Donlan in which he suggests that schools and states may be unable to reform without help.
Columns
Columns in this weekend's Barron's discuss:
The U.S. phone and Internet surveillance revelations
Quantitative easing as a boon to the wealthy
Whether it is time to moderate market expectations
Whether Time Warner (NYSE: TWX) is fully priced
Bargains in muni closed-end funds
Potential winners and losers in the coming super-network war
The requirement that companies switch auditors every six years
The slow jobs market recovery
Whether Japan is in free-fall
The Barron's 400 exchange traded fund
Cracker Barrel's (NASDAQ: CBRL) dividend
Importing the "best and brightest"
Posted-In: Barron's Clean Harbors Cracker Barrel Elon Musk ExxonMobil foot locker GoogleMedia Best of Benzinga
View Comments and Join the Discussion!