Barron's Recap (9/22/12): Facebook Is Worth $15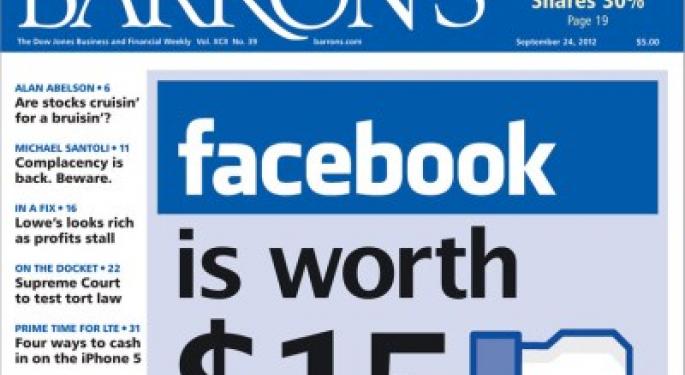 This weekend in Barron's online: why Facebook is overvalued, the prospects for Intuit and Big 5 Sporting Goods, and the Supreme Court will test the mettle of class-action lawyers.
Cover Story
"Still Too Pricey" by Andrew Bary.
After a recent rally to $23 from a low of $17.55, is Facebook (NASDAQ: FB) a buy? Barron's says no. More than half of Facebook users now access the site on smartphones and tablets, a fact that appears to have caught the company by surprise. The social media company makes virtually all of its money from PC users. But that traffic is declining in large and established markets, a trend that is unlikely to change. So what are shares worth? A price of $15 would be roughly 24 times projected 2013 profit, compared to the current 47 times projected 2012 profit and 36 times estimated 2013 earnings. However, only one of the almost 40 analysts covering Facebook has a price target of $15. Most are in the high $20s or $30s. The bottom line: "Facebook remains a richly valued bet on the company's ability to wring a lot of revenue from a huge and potentially fickle user base. Facebook's mobile woes aren't likely to go away."
Feature Stories
"Don't Write Off Intuit" by Robin Goldwyn Blumenthal suggests that investors are making a mistake by ignoring the solid results and promising outlook for the tax-filing and payment compay. Intuit (NASDAQ: INTU) shares are undervalued and could rise nearly 30% in the next 18 to 24 months.
In "Getting Back in the Game," David Englander examines Big 5 Sporting Goods (NASDAQ: BGFV), which is enhancing its merchandise mix to attract customers and boost sales and profits. Big Five is a sporting-goods retailer with about half of its 407 stores in recession-weary California.
Jim McTague's "The Return of the Tort Bar" points out that several major cases on the docket for the Supreme Court's fall session will test the resilience of class-action lawyers in the wake of legislation designed to curb frivolous lawsuits, and should make executives of public corporations squirm.
"Battle-Tested in Boston" by Erin E. Arvedlund is a profile of Joseph F. Patton Jr., the founder of J.P. Marvel Investment Advisors, who uses hedge-fund techniques to limit risk. He says the "energy story is being rewritten" in the United States and the Fed has given banks "a gift."
Economic freedom in the world is near an all-time high, says "Striving to Breathe Free" by Gene Epstein. However, in the United States, despite still being ranked above the world average, the 10-year trend is downward, according to research by the Fraser Institute.
In Jonathan R. Laing's "Double Duty at DoubleLine," T. Jeffrey Gundlach, the colorful founder and CEO of the bond shop DoubleLine Capital, reflects on why he struck out on his own and on what gives him an edge over other fixed-income money managers.
"Where a Hedge Fund Is Finding Bonds to Buy" by Lawrence C. Strauss is an interview with hedge-fund pro Steve Tananbaum, who shares why he likes some junk bonds, European debt and even Argentine paper, but he is wary of Clear Channel Communications.
In "Building Military Strength from Fiscal Adversity," Harold J. Raveché, president of Innovation Strategies International, says that, on the edge of the "fiscal cliff," the U.S. faces tax increases and spending cuts, unprecedented in size and scope. But wise cuts can strengthen the nation.
"Where the Money Is" is an editorial commentary by Thomas G. Donlan that suggests that real tax reformers would close all the loopholes at once.
Columns
Columns in this weekend's Barron's discuss:
Already time for QE4?
Corporate insider sales outnumber buys by six to one
How Congress may avoid the fiscal cliff
Unexpected winners from the iPhone 5 launch
Online brokers give clients new access to foreign countries and currencies
Study absolves hedge funds as cause of the 2008 financial crisis
A look at Apple's (NASDAQ: AAPL) new iPhone
Online Exclusives
This weekend's Barron's online exclusives include:
"Primoris Services CEO's $1.6 Million Sale" by Grace L. Williams. Chairman, President and Chief Executive Officer Brian Pratt sold 118,968 shares of the specialty contractor and infrastructure firm Primoris Services (NASDAQ: PRIM) for $1,562,831. This was Pratt's seventh transaction this year and reduces his direct stake to 29.3%, or 15,065,835 shares. He also indirectly holds 97,810 shares through his spouse.
Posted-In: Apple Barron's Big 5 Sporting Goods Clear Channel Communications ConAgra Facebook intuitMedia Best of Benzinga
View Comments and Join the Discussion!