Senator Dodd Has A Strong Case To Regulate Financial Derivatives; Barron's (AIG, JPM, GS, BAC)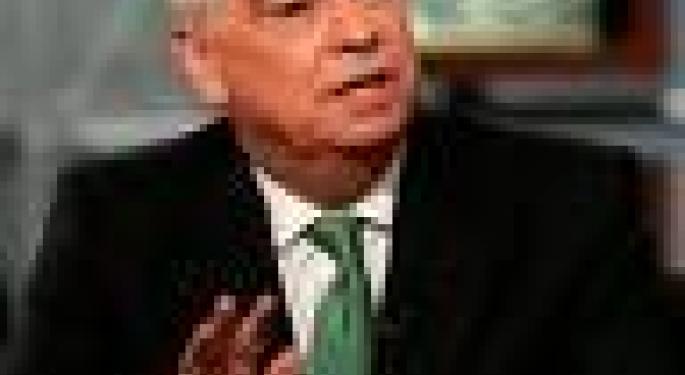 Barron's says that over the years Wall Street firms have become experts at hiding transactions in the over-the–counter derivatives market. However, the financial crisis exposed the vulnerability of the financial system from such derivatives resulting in legislators making the oversight and management of the $600 trillion market for derivatives an important part of their financial reform.
Last Week, Senator Christopher Dodd introduced a bill proposing that most financial derivatives be routed through a clearinghouse and traded on a regulated exchange. The bill aims to increase the transparency of complex derivative products. The clearinghouse would guarantee payments from counterparties and an exchange would make pricing of such products public. In 2008, such a mechanism was not in place resulting in the collapse of Lehman Brothers (OTC: LEHMQ) and a near collapse of insurer American International Group, Inc. (NYSE: AIG), which only survived after the government bailed it out with taxpayers' money. Both companies had large exposure to complex OTC derivative products, which were not easy to price.
Although there has been cooperation from the likes of JP Morgan Chase & Co. (NYSE: JPM), Goldman Sachs (NYSE: GS) and Bank of America Corporation (NYSE: BAC) in making derivative markets more transparent, only a third of trading in derivatives is currently done through clearing corporations, with the majority still being done over-the-counter. However, there has been objection from dealers to the idea of a derivatives exchange as they believe that most over-the counter contracts are tailor-made for individual clients' requirements and that standard contracts traded on exchanges would not fulfill individual clients' needs. But the real reason behind this objection could be profits as putting up additional collateral with clearinghouses would make such derivatives more expensive and also cut down the leverage traders and investors can use.
According to analysts at Sanford C. Bernstein, JP Morgan could lose $3 billion in revenue if some of the reforms for the financial system are implemented. Ari Bergmann, managing principal at Penso Advisors, says, "Dealers have a great incentive to keep the market opaque." But, with the explosion in derivative markets in the past decade, regulating and addressing counterparty risk has become a necessity. This necessity has been accentuated by the financial crisis. Under Senator Dodd's reforms, there will not be any obligations between counterparties to a trade. Both the buyer and seller of a contract will be obligated to a clearinghouse just like they are when trading a futures contract.
View Comments and Join the Discussion!