Benzinga's Bulls & Bears Of The Week: AT&T, Facebook, Intel, Netflix, Twitter And More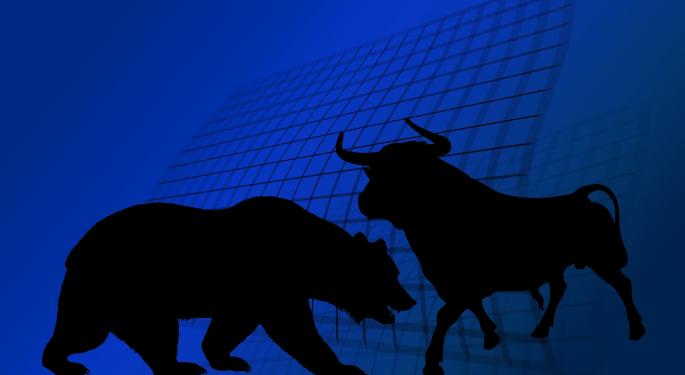 Benzinga featured looks at many investor favorite stocks over the past week.
Bullish calls included a number of leading tech stocks.
Bearish calls included retailers and a newly minted merger.
The new earnings reporting season began this past week, and the broader markets eked out very modest gains. The Nasdaq is up more than 3 percent since the end of May, leading the S&P 500 and Dow Jones industrials. The trade war between the United States and China and prospects for further rising interest rates continue to serve as overhangs.
As usual, Benzinga continues to feature looks at the prospects for many investors' favorite stocks. Here are just a few of this past week's most bullish and bearish posts that may be worth another look.
Bulls
"3 Reasons Why Goldman Sachs Is Incrementally Bullish On Twitter" by Ezra Schwarzbaum discusses why Wall Street is still underestimating the ability of Twitter Inc (NYSE: TWTR) to follow through in three key areas.
In "Analyst: Apple Unlikely To Pivot Away From Intel For 5G Tech," Andrew Geller examines why the iPhone maker likely won't abandon its partnership with Intel Corporation (NASDAQ: INTC), according to one key analyst.
Elizabeth Balboa's "Nomura Bullish on Alphabet, Facebook, Spotify: 'Still Some Room For Growth'" makes a case that regulation could strengthen Alphabet Inc (NASDAQ: GOOGL) and Facebook, Inc. (NASDAQ: FB).
One analyst favors Baidu Inc (NASDAQ: BIDU) despite a mixed view of e-commerce and internet companies in China, according to "KeyBanc Upgrades Baidu, Lowers Alibaba Estimates In Chinese Internet Update" by Shanthi Rexaline.
In Bill Haddad's "TripAdvisor Has 'Compelling Path' To Top-Line Revenue Growth, Barclays Says In Upgrade," see how the fundamentals at TripAdvisor Inc (NASDAQ: TRIP) are turning around as it faces increasingly favorable secular trends.
Also have a look at "What Do Alphabet's 'Wing' And 'Loon' Businesses Do?"
Bears
"The Raymond James: AT&T To Suffer Extended Overhang From DOJ Appeal" by Elizabeth Balboa points out that AT&T Inc. (NYSE: T)'s share value could be suppressed throughout a six-month appeal process.
In Ezra Schwarzbaum's "UBS Downgrades Netflix: 'Hitting Pause On Binge Buying'," see why one key analyst says sequel seasons for many core Netflix, Inc. (NASDAQ: NFLX) series are underperforming previous seasons.
Even steady traditional retailers like Urban Outfitters, Inc. (NASDAQ: URBN) are still unable to compete with e-commerce, according to "KeyBanc Downgrades Nordstrom, Urban Outfitters, Says E-Commerce Pressures Are Only Increasing" by Hannah Genig.
In "Incyte Has Limited Catalysts In Next 6 Months; But 2019 Could Be Pivotal, Morgan Stanley Says In Downgrade," Shanthi Rexaline takes a look at why Incyte Corporation (NASDAQ: INCY) may hold little upside for the rest of the year.
Craig Jones's "Stifel Takes Neutral Stance On Newly Merged Keurig Dr Pepper" examines one key analyst's concerns about Keurig Dr Pepper Inc. (NYSE: KDP) now that the merger is complete.
Be sure to check out "4 Best-Dressed CEOs In America" as well.
At the time of this writing, the author had no position in the mentioned equities.
Keep up with all the latest breaking news and trading ideas by following Benzinga on Twitter.
Posted-In: Media Trading Ideas Best of Benzinga
View Comments and Join the Discussion!