Benzinga's Bulls & Bears Of The Week: Amazon, GE, Intel, T-Mobile And More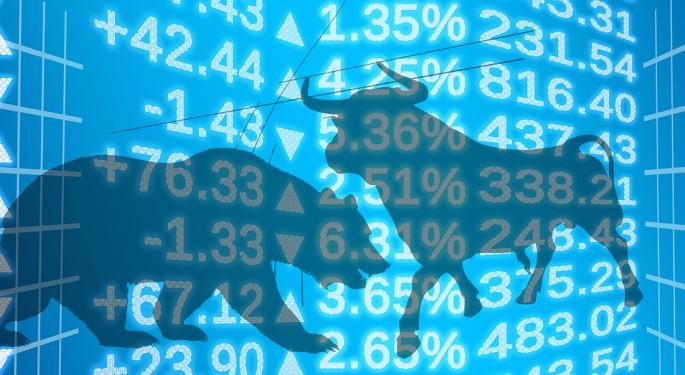 Benzinga has featured looks at many investor favorite stocks over the past week.
Bullish calls included the old-school industrial that was just ousted from the Dow.
Bearish calls included a leading semiconductor maker and a supermarket giant.
The broader markets saw little progress again this past week, though the Nasdaq continues to lead year-to-date with a gain of about 7 percent. Increasing concerns about the effects of tariffs and the possibility of trade wars shoulder much of the blame for recent sluggishness. As usual, Benzinga continues to feature looks at the prospects for many investor favorite stocks. Here are just a few of this past week's most bullish and bearish posts that may be worth another look.
Bulls
"Oppenheimer Drops Bearish GE Thesis On Improving Balance Sheet Outlook" by Wayne Duggan shows why one analyst has grown cautiously optimistic on General Electric Company (NYSE: GE) after recent changes.
In "Amazon's PillPack Acquisition: What It Means For The Tech Giant And Everybody Else," Elizabeth Balboa examines how this latest acquisition "opens another major category" for Amazon.com, Inc. (NYSE: AMZN).
Jayson Derrick's "Wells Fargo: T-Mobile Is A Buy With Or Without Sprint" discusses why one top analyst says investors should consider buying shares of T-Mobile Us Inc (NASDAQ: TMUS) regardless of the outcome of a reported merger.
A recent asset sale removes uncertainty for Kinder Morgan Inc (NYSE: KMI), according to the analyst featured in "Kinder Morgan's TransMountain Sale Triggers Bernstein Upgrade" by Shanthi Rexaline.
In Brett Hershman's "Berenberg Says To Buy The Dip In Carnival: 'The Guidance For 2018 Remains Strong'," see why the sell-off ahead of the Carnival Corp (NYSE: CCL) earnings report is not supported by the evidence.
Also have a look at "Why The Small-Cap Surge Is More Important Than You Think."
Bears
"3 Reasons Why Bernstein Downgraded Intel" by Wayne Duggan points out why a key analyst believes that Intel Corporation (NASDAQ: INTC) currently has too many structural issues for investors to own the stock for the long term.
In Elizabeth Balboa's "Kroger's Stock Met Its Value Potential; Pivotal Downgrades To Hold," see why the Kroger Co (NYSE: KR) story may be strong but "the stock has simply gone up too far and too fast" for one key analyst.
Find out why shares of Diageo plc (NYSE: DEO) are unlikely to see any further notable upside, according to "Diageo's Rally Has Come To An End, Bernstein Says In Downgrade" by Jayson Derrick, especially if a global trade war breaks out.
In "Incyte Downgraded As RBC Analyst Awaits More Revenue Visibility," Shanthi Rexaline takes a look at why an analyst said markets overreacted to recent clinical trial setbacks at Incyte Corporation (NASDAQ: INCY) — yet this is not the time to buy.
Ezra Schwarzbaum's "Analyst: Mattel's Fundamentals Don't Warrant Its Recent Run" examines some reasons why Mattel, Inc. (NASDAQ: MAT) may face a hard second quarter and one firm cut its forecast.
Be sure to check out "The Company With A Special Seat Between The Private Sector And Feds" as well.
At the time of this writing, the author had no position in the mentioned equities.
Keep up with all the latest breaking news and trading ideas by following Benzinga on Twitter.
View Comments and Join the Discussion!
Posted-In: Amazon Amazon.com carnival Diageo GE General ElectricMedia Trading Ideas Best of Benzinga