Barron's Picks And Pans: Arista, Kroger, SeaWorld, Valeant And More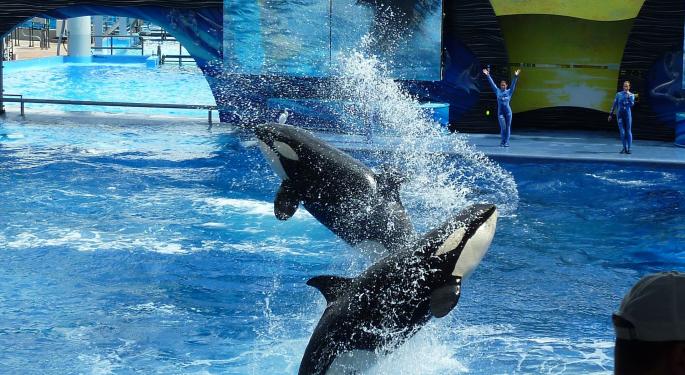 This weekend's Barron's cover story looks at why the buyback boom is bullish for investors.
Other featured articles offer a dozen elite dividend picks and ask whether a robot can build the perfect portfolio.
Also, the prospects for a supermarket operator, a networking specialist and a theme park operator.
"Why the Buyback Boom Is Bullish for Investors" by Andrew Bary suggests that big corporations such as Apple Inc. (NASDAQ: AAPL) and JPMorgan Chase & Co. (NYSE: JPM) have gone on a spending spree, repurchasing their shares in record amounts. Will others, such as Alphabet Inc (NASDAQ: GOOGL), follow suit?
Jack Hough's "Kroger: A Supermarket Stock on Sale" points out that as some rivals fall, big grocer Kroger Co (NYSE: KR) should gain market share and improve its operating results. In other words, Barron's says it doesn't have to outrun the bear (i.e., Amazon and Walmart), it just has to run faster than the other hikers (its peers).
In "12 Elite Dividend Stocks," Lawrence C. Strauss reveals 12 standouts that Barron's culled from the famed Dividend Aristocrats. AT&T Inc. (NYSE: T), Exxon Mobil Corporation (NYSE: XOM) and the rest all have nice yields with a record of increases for at least 25 years, but investors should beware, says the article: There's a catch.
This networking specialist run by former Cisco managers is about to take on its former employer in the corporate market, according to "Arista Takes Aim at Cisco" by Tiernan Ray. Can Arista Networks Inc (NYSE: ANET) succeed? See why Barron's thinks its success or failure could determine whether its pricey shares can continue to rise.
See Also: A 'Layer Of Protection' From Amazon Is A Dividing Line In Retail
In Brett Arends's "SeaWorld Makes a Splash," see why even though shares of SeaWorld Entertainment Inc (NYSE: SEAS) have rallied more than 25 percent this year, Barron's doesn't feel that now is the time to jump aboard. Check out the article to see what progress the theme park operator had made and what headwinds it still faces.
"Will Google's Robot Pick Good Stocks?" by Vito J. Racanelli suggests that until robots like Google Assistant can build a perfect portfolio, investors should stick with mundane market indicators. Also, what to expect from the markets this summer and fall, and the prospects for Valeant Pharmaceuticals Intl Inc (NYSE: VRX) after its name change.
Also in this week's Barron's:
How rising oil prices will affect the U.S. economy
A "boot camp" for aspiring hedge fund stars
Why to short tech and buy India
Companies with ties to Michael Cohen
A delayed death cross
A new wave of China tech giant IPOs
California and the outlook for the solar industry
View Comments and Join the Discussion!
Posted-In: Alphabet Apple Arista Networks AT&T Barron's Exxon Exxon MobilMedia Best of Benzinga