Benzinga's Bulls & Bears For The Past Week: Netflix, AMD, Colgate And More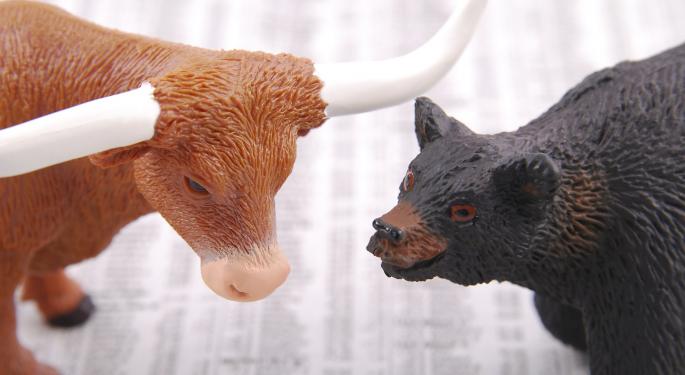 Benzinga has featured a look at many investor favorite stocks over the past week.
Some of the more bearish calls focused on movie theater stocks and retailers.
Some bullish calls included undervalued biotechs and a best in media.
Summer is in full swing. Did investors sell in May and go away? Well, maybe not, as the markets hit new all-time highs again this past week, with even the Nasdaq recovering from its recent dip. And Benzinga has continued to feature a look at the prospects for many investor favorite stocks.
Here are just a few of the bullish and bearish calls from last week.
The Bears
"Movie Theater Stocks Tumble Following Bearish Comments From A Credit Suisse Analyst" by Merrick Weingarten takes a look at what one key analyst has to say about why so few people are going to movie theaters anymore, and what that means for the prospects of Regal Entertainment Group (NYSE: RGC) and its competitors.
In "If Colgate's Looking To Sell Itself, Would Berkshire Be Looking To Buy?" Taylor Cox examines the chances that Warren Buffett, either through Berkshire Hathaway Inc. (NYSE: BRK-B) or Kraft Heinz Foods Co (NYSE: HNZ), might be willing to acquire struggling Colgate-Palmolive Company (NYSE: CL).
Shanthi Rexaline's "If The Economy Is Improving, Why Are Dollar Stores The Only Retailers With Positive Trends?" not only discusses the ongoing struggles of the retail sector, but also the one class of retailers that is bucking that trend. See why analysts are optimistic about the likes of Ollie's Bargain Outlet Holdings Inc (NASDAQ: OLLI).
Also check out another bearish call in Deutsche Bank: Caterpillar's Consensus Has Undergone Metamorphosis.
The Bulls
Netflix, Inc. (NASDAQ: NFLX) has not only swept subscribers off their feet, but it has also enamored the analyst community, according to "Analysis: Why Netflix Remains 'Best Idea In The Media Industry' by Shanthi Rexaline. See why one key analyst has applauded its investments in compelling global content creation.
In Wayne Duggan's "Hello, Mr. Chips: A Look At AMD's Wild Year," see what a ride shareholders of Advanced Micro Devices, Inc. (NASDAQ: AMD) have been on since the stock bottomed in early 2016. And shares soared again last week after the company provided details on its newly launched EPYC server processor.
"6 Biotech Stocks Jefferies Says Are Undervalued" by Merrick Weingarten features six stocks in the industry that this key analyst sees as undervalued after biotechs stocks soared last week. Do Sangamo Therapeutics Inc (NASDAQ: SGMO) and the others present a longer-term growth opportunity for investors?
And check out Winners And Losers From Amazon's Purchase Of Whole Foods for a mix of bullish and bearish picks.
Keep up with all the latest breaking news and trading ideas by following Benzinga on Twitter.
View Comments and Join the Discussion!
Posted-In: Advanced Micro Devices AMD Berkshire Hathaway colgate-palmolive Kraft Heinz Foods NetflixMedia Trading Ideas Best of Benzinga