Large Option Traders Making Aggressive Bets On GameStop, Nokia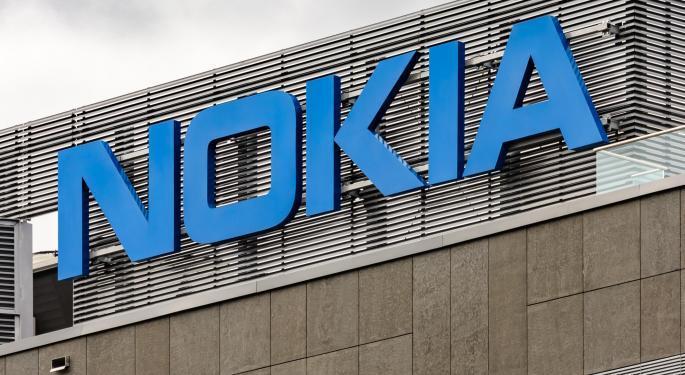 GameStop Corp. (NYSE: GME) shares fell 51.1% and Nokia (NYSE: NOK) shares tumbled 8% on Tuesday as the WallStreetBets-fueled short squeeze appears to be winding down for the time being.
A flurry of large option trades in the two highly shorted stocks were mixed in nature on Tuesday as investors decide whether or not the short squeeze is over for good.
The Trades: On Tuesday morning, Benzinga Pro subscribers received dozens of option alerts related to unusually large trades of GameStop and Nokia options. Here are a handful of the biggest:
At 9:44 a.m., a trader bought 3,181 GameStop put options with a $75 strike price expiring on Friday at the ask price of $12.50. The trade represented a $3.97 million bearish bet.
At 10:39 a.m., a trader bought 10,000 Nokia call options with a $5 strike price expiring in January 2023 at the ask price of $1.36. The trade represented a $1.36 million bullish bet.
At 10:45 a.m, a trader sold 381 GameStop put options with a $200 strike price expiring on Friday near the bid price at $124. The trade represented a $4.72 million bullish bet.
At 11:02 a.m., a trader bought another 10,000 Nokia call options with a $5 strike price expiring in January 2023 at the ask price of $1.40. The trade represented a $1.4 million bullish bet.
Related Link: Why Short Sellers Help Keep The Stock Market In Check: 'Pricing Mechanism Is Broken' Without Them
Why It's Important: Even traders who stick exclusively to stocks often monitor option market activity closely for unusually large trades. Given the relative complexity of the options market, large options traders are typically considered to be more sophisticated than the average stock trader.
Many of these large options traders are wealthy individuals or institutions who may have unique information or theses related to the underlying stock.
Unfortunately, stock traders often use the options market to hedge against their larger stock positions, and there's no surefire way to determine if an options trade is a standalone position or a hedge. In this case, given the relatively small size of the largest PayPal trades by institutional standards, they were likely not institutional hedges.
Short Squeeze Volatility: GameStop and Nokia are two of the popular stocks that WallStreetBets and other retail traders have targeted in recent weeks in triggering short squeezes in some of the most shorted stocks on Wall Street.
In the past month, shares of Nokia spiked from under $4 to as high as $9.79 before dropping back down to around $4.50 on Tuesday.
GameStop, which has the highest short percentage of float of any stock on the market, has been even more volatile. Shares skyrocketed from as low as $17.08 in January to new all-time highs of $483 this week before giving up a large chunk of those gains on Tuesday. GameStop shares were last trading at around $100.
Even prior to the pandemic, both companies were struggling. In 2019, Nokia reported just $7 million in profits, its first positive net income since 2015. GameStop's 2019 revenue was down 3% and it reported a net loss of $673 million.
The WallStreetBets community helped drive a short squeeze in GameStop and other stocks that ultimately led to Robinhood and several other brokers limiting or banning buys of the most volatile stocks. The squeeze also hit hedge funds that were short GameStop and others extremely hard. Melvin Capital reported a 53% loss for the month of January and was forced to take $2.75 billion emergency investment from Citadel and Point72 Asset Management.
Benzinga's Take: The two largest GameStop option trades are short-term in nature, suggesting they are plays on the current short squeeze. The Nokia call purchases, on the other hand, don't expire for nearly two years and maybe bets on the strength of the company's underlying business.
The $1.4 million Nokia call purchase has a break-even price of $6.40, suggesting at least 40.9% upside for the stock over the next two years.
View Comments and Join the Discussion!
Posted-In: Penny Stocks Options Top Stories Markets Trading Ideas Best of Benzinga