Boeing Option Trader Bets $3M On 10% More Upside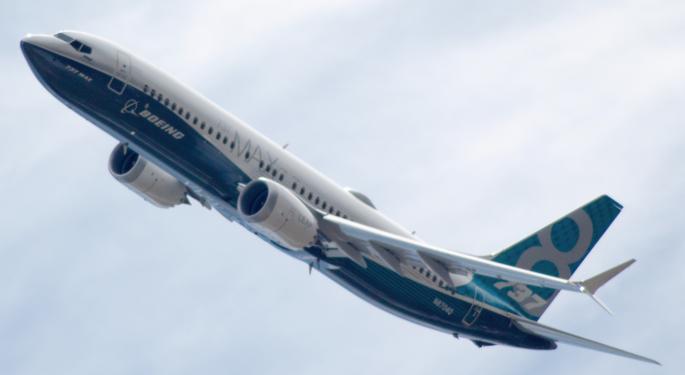 Boeing Co's (NYSE: BA) order backlog continues to shrink on a monthly basis, but investors appear to finally see a light at the end of the tunnel.
A flurry of large Boeing option trades were mostly bullish on Tuesday as investors hope an ongoing Federal Aviation Administration (FAA) review of the 737 Max will yield positive results in the next several days.
The Boeing Trades: On Tuesday morning, Benzinga Pro subscribers received several option alerts related to unusually large trades of Boeing Airlines options. Here are a handful of the biggest:
At 10:40 a.m., a trader bought 728 Boeing call options with a $160 strike price expiring on Jan. 15 at the ask price of $32. The trade represented a more than $2.32 million bullish bet.
At 10:52 a.m., a trader bought 500 Boeing call options with a $150 strike price expiring in Jan 2022 at the ask price of $59. The trade represented a $2.95 million bullish bet.
At 10:55 a.m., a trader sold 500 Boeing call options with a $150 strike price expiring on Jan. 15 near the bid price at $39.752. The trade represented a more than $1.98 million bearish bet.
At 10:58 a.m, a trader bought 491 Boeing call options with a $200 strike price expiring in January 2022 at the ask price at $35.90. The trade represented a more than $1.76 million bullish bet.
Why It's Important: Even traders who stick exclusively to stocks often monitor option market activity closely for unusually large trades. Given the relative complexity of the options market, large options traders are typically considered to be more sophisticated than the average stock trader.
Many of these large options traders are wealthy individuals or institutions who may have unique information or theses related to the underlying stock.
Unfortunately, stock traders often use the options market to hedge against their larger stock positions, and there's no surefire way to determine if an options trade is a standalone position or a hedge. In this case, given the relatively large size of the largest Boeing trades, they could potentially represent an institutional hedge.
Clear Skies Ahead? On Tuesday, Boeing said it delivered 13 total planes in October. Adding those deliveries to its 12 cancellations and orders Boeing removed from its backlog, the company's outstanding orders dropped by 50 planes in October to just 4,275. Boeing's backlog is now down from 4,774 planes in May.
Boeing shares are down 40.8% year to date, but up 82.5% since the market bottomed on March 23.
On Monday, FAA administrator Steve Dickson said the regulator's review of Boeing's 737 Max changes should be over in the "coming days."
American Airlines (NYSE: AAL) is expecting the 737 Max to return to operation by the end of 2020.
Positive updates on the coronavirus vaccine front have pushed Boeing shares significantly higher this week. However, Bank of America analyst Ronald Epstein recently said Boeing's recovery may take longer than expected, even if the 737 Max is given the all-clear.
"Management now expects to turn FCF positive in the 2022 timeframe (vs. prior 2021), despite significant 737 MAX and 787 inventory tailwinds expected in 2021," Epstein said.
Bank of America is calling for an EPS loss of $2.05 in 2021 before a return to profitability in 2022. Epstein said he doesn't expect commercial aviation demand to return to 2019 levels until 2024.
Bank of America has a Neutral rating and $175 price target for Boeing.
Epstein isn't the only analyst skeptical of Being and its recent rally. On Oct. 29, Morgan Stanley reiterated its Underweight rating for Boeing, dropping its price target to $165.
Benzinga's Take: Boeing's stock has rallied significantly in large part due to relief that the company will remain solvent in the near term. However, additional upside for the stock from here may be limited if the commercial aviation demand takes as long to fully recover as Bank of America anticipates. In the meantime, Boeing will have to prove it has stopped the bleeding and its order backlog is no longer shrinking on a monthly basis.
Despite the difficult path ahead, most of the biggest Boeing option trades on Tuesday were bullish bets, including a Jan. 2022 call purchase worth $3 million. The biggest option trade of the morning has a break-even price of $209, suggesting another 10% upside for Boeing over the next 14 months.
Photo credit: pjs2005 from Hampshire
View Comments and Join the Discussion!
Posted-In: Bank of America Ronald EpsteinOptions Top Stories Markets Trading Ideas Best of Benzinga