How To Plan An XLV Call Ratio Spread
Stocks have been going bananas since the bottom on October 15.
What a difference a few weeks makes. It seems just recently that traders were worried that the bull market was dead. The Bank of Japan put an end to that rhetoric on Friday with the decision to ramp up stimulus efforts.
Clearly that has been seen as a positive for stocks and the bull is back in a big way.
Within the market, there has been some interesting divergence in terms of sector performance, with defensive names such as healthcare and utilities doing very well while energy and materials have lagged.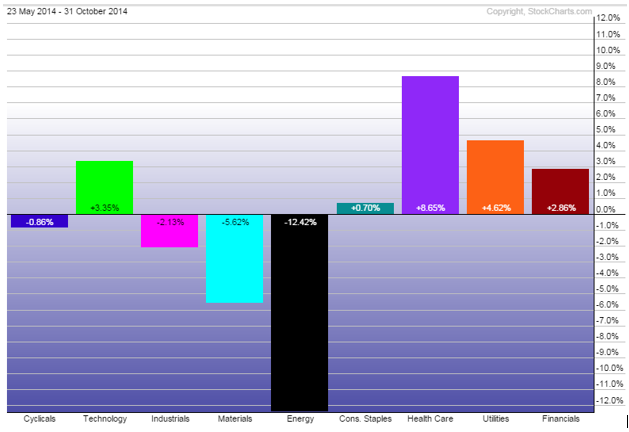 There has been a large rotation into defensive names since mid-September and that is typical of fund managers being concerned about a correction. Well, the correction took place, but the bounce has been equally spectacular.
It's hard to imagine healthcare leading the latest leg of the bull rally, and it would be reasonable to expect the performance of the healthcare sector would be subdued going forward with asset managers starting to rotate back into more aggressive sectors.
After a 13 percent gain in the past five months, the Health Care SPDR (ETF) (NYSE: XLV) may trade sideways in the next few weeks of this bull rally.
With XLV currently trading at $67.06, a rally up past $70 seems unlikely.
A trader buying one December 19 $68 call and selling three December 19 $70 calls would benefit from XLV expiring between $68 and $70 on December 19.
The trade could be put on for zero cost with the sold $70 options paying for the bought $68 option. There is zero risk on the downside as losses are limited to the amount paid for the trade, which in this case would be close to zero.
The trade does involve two naked calls which is a risky play and involves different margin requirements to trading spreads, so be aware of the risks and the impact on margin.
The worst case scenario for someone trading this strategy would be a strong rally in XLV early in the trade.
Posted-In: Bank of JapanOptions Markets Trading Ideas
View Comments and Join the Discussion!