How To Find A Cash Secured Put In Twitter Inc
Recently, Twitter (NYSE: TWTR) was upgraded by JP Morgan analyst Doug Anmuth with a $64 price target.
Twitter has been a strong stock lately despite the market weakness, so here's a look at an options play on Twitter, known as a cash secured put.
The idea behind a cash secured put is that traders sell an out-of-the-money put while also setting aside enough cash in the event of assignment. Assignment is defined by Investopedia as "a notice received by an option writer station that the option sold has been exercised by the purchaser of the option."
This would occur if the stock falls below the strike price at expiry. The seller of the put would then be forced to buy 100 shares of the stock at the strike price.
Looking at Twitter, which on October 3 closed at $53.94, here's how the trade would look.
Selling an out-of-the-money put on Twitter generates income while gaining a bullish exposure to the stock. Currently the December $47 puts are trading for around $2.10. A trader selling this put would receive $210 into their account which would be theirs to keep.
If Twitter falls below $47 by December 19, traders would be forced to buy the stock for $47. The ideal scenario would be Twitter falling to just under $47 and the trader would then get exposure to the stock for much less than the $53.94 they would have to pay currently.
Twitter Cash Secured Put Example
Date: October 6, 2014

Current Price: $53.94
Trade Set Up:
Sell 1 December 19 $47 Put @ $2.10
Premium: $210 Net Credit.
Break even Price: $44.90
Max Gain: $210
Capital At Risk: $4,490
Return Potential: 4.68 percent
If Twitter falls below $45 and the trader is assigned, the stock was purchased for less than what the issue is trading at currently. If the stock stays above $45, the trader gets to keep the premium and the put expires worthless leaving them with a healthy 4.68 percent return on capital at risk.
The main risk with the trade is similar to outright stock ownership. That is, if the stock falls precipitously, the trader will suffer a loss, but the loss will be offset by the premium they received for selling the put.
Cash secured puts can be a great way to gain exposure to a stock for less than the current price and Twitter is a prime candidate due to the high level of option premium available.
Just be aware of the risks and make sure you understand all the mechanics of the trade first!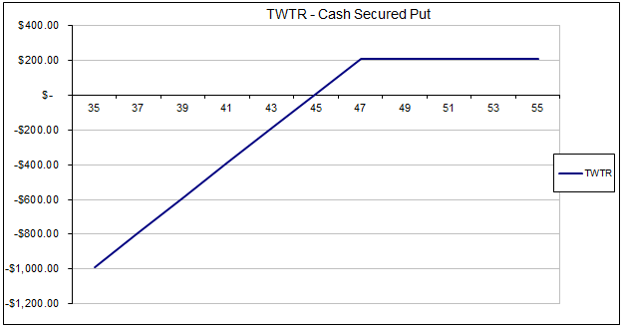 Posted-In: Douglas Anmuth JP MorganOptions Markets Trading Ideas
View Comments and Join the Discussion!