Options Outlook For The Week Of March 17: Friday's Jitters Could Lead Markets Up This Week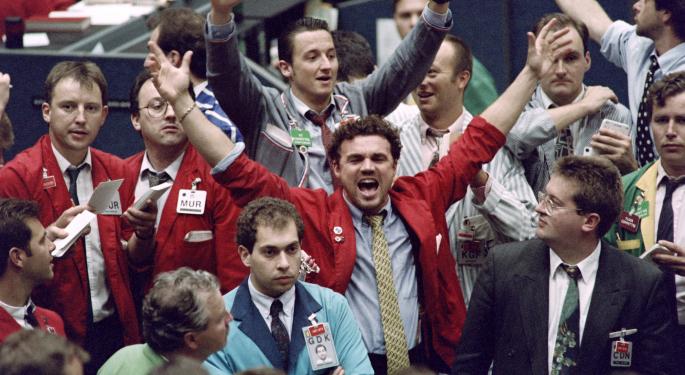 Market experts seem to be confused about the reason for the jittery price action.
Experts cite China or the Crimean vote over the weekend, but most likely the culprit is the latter because China slowdown has been in the news since early last year.
At one point in 2013 we've even heard of 6.5 percent growth in China, so it's not new to this week. Since the Fed has not changed its course and companies are not doing much worse, traders should be confident in saying that the fundamentals have not changed either.
So, that leaves one major variable: Crimea events!
Most importantly for the Monday US market open is the Western world's reaction to the outcome in Crimea. Putin is reportedly already occupying the territory so he doesn't have the incentive to start an actual war.
The interim Kiev government is too small to pick a fight with Russia, and the West is not likely willing to start a skirmish that can start World War III.
So, this leaves economic warfare.
Regardless, the markets were jittery on Friday as a result.
There were wide spread strengths in the mid and small caps. In the video below is a visual heat map of the small cap index showing green in every sector. So the names that sold off Friday (other than then momentum high-flyers with no margins) were victims of winners hedging the weekend outcome. Think of Apple (NASDAQ: AAPL) for example as the piggy bank to raise cash just in case.
Opportunities: next week IF the Crimean event passes peacefully with no serious escalations from any side then I will be looking to go long a few good names that didn't deserve this week's battering. Candidates include Google (NASDAQ: GOOG), Priceline (NASDAQ: PCLN), Amazon (NASDAQ: AMZN), SPX, RUT and NDX.
Amazon note: it had two green candles during extreme uncertainty and strong sell offs. If markets stabilize next week, it may lead up and would be a good candidate for a lotto debit call spread. The same goes for the small cap index. Since it held well Friday, then if markets are stable Monday and try to rally, the small caps should lead up.
Priceline note: This is a stock that dropped from the $1400.00 area to $1268.00. This is not a typical momentum stock like Tesla (NASDAQ: TSLA). Priceline actually prints money from the entire globe. It has great revenues from Europe which is not the cause of concern here. I expect this one to recover hard and fast once these worry abate.
Bottom line: 'this too shall pass' since the global thesis is still intact: Feds are behind us for a while; hence, no impending doom.
Check out the video below for a recap:
Posted in: Options Pre-Market Outlook Markets Best of Benzinga