The Volatility Index (VIX) Can Protect Bullish Gains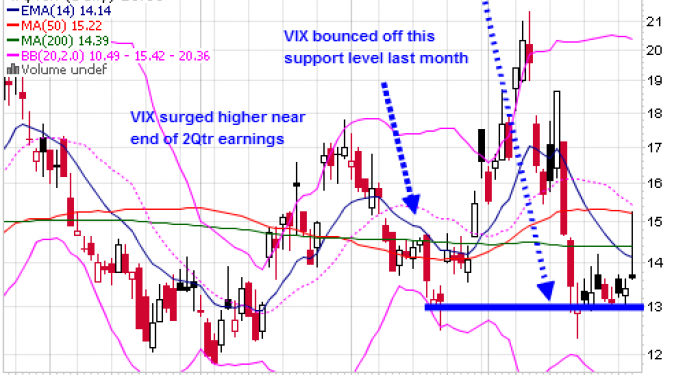 CBOE Volatility Index (VIX) December expiration calls
The Volatility Index (VIX) is setup for a short-term (49-day) bullish option play - investors could:
Buy VIX December 19th expiration 14 strike calls for approx $2.00 (yesterday's closing price)
Our target price to the upside is 21
We suggest adding a .30 trailing stop-loss order after the trade is executed
See Guidelines page at www.theoptionplayer.com/ for explanation on how trade is set up.
Why we recommend it:
Many investors use the CBOE Volatility Index (VIX) as a simple hedge or protection for bullish stock positions. As an example, for approximately $4,000 we could hedge 2,000 shares of stock ($2 per share premium X's 2,000 shares). If the VIX rises to 21 prior to December expiration the theoretical gain should be approx. $10,000 (21 target minus 14 strike = 7) (7 minus $2 premium paid = 5 X's 2,000 shares). Technically, the VIX is not defined as a "hedge", but generally performs that way when there is trend change in the overall equity market.
Similar to the July 25th article discussing a similar trade, as bullish momentum started dissipating toward the end of second quarter earnings season after the FMOC meeting. You can see in the chart below how soon after we executed our trade the VIX surged higher. Technically and fundamentally, the setup is similar to last time and you can see the VIX jumped higher from the current support level last month as investors became nervous and equities pulled back during the debt ceiling debacle. There is minimal downside as the VIX has not been much lower since the middle of the summer, plus we usually attach a trailing stop-loss order to long option plays. If the VIX drops lower and the stop loss order is executed we can always re-enter the trade if we still believe the setup is low risk/high reward.
As highlighted in the chart below, technically the VIX be ready to move higher after bouncing off the support level and earning season winds down. The momentum indicator (MACD) signals bearish pressure is waning - if the past is a guide this should lead to a near term bullish spike. As discussed above, there should be minimal downside risk for this trade. At this point we are betting that buying VIX calls is a low-risk high-reward opportunity with a high probability of success within the next month.
52-Week High: 22.72
52-Week Low: 11.05
The preceding article is from one of our external contributors. It does not represent the opinion of Benzinga and has not been edited.
Posted-In: Options Markets Trading Ideas
View Comments and Join the Discussion!