Trading Update May 7th
S&P closed at highs today but most large-cap sectors performed rather lackluster relative to last week's performance. We saw a real choppy type of environment with a lack of conviction on either side of the trade. What happens after stocks ride a certain wave, you get some an indecisive period of time when investors and traders are unsure whether to keep on with the current trend, start taking profits, or reverse their bias altogether. Although the S&P continues to plug away at fresh all-time highs, long bias trades must be treated a bit differently.
Financials were a mixed bag today, with JP Morgan (NYSE: JPM) putting in a decent move higher and Bank of America (NYSE: BAC) taking a stab at the $13 level. Apple (NASDAQ: AAPL) & Google (NASDAQ: GOOG) stopped their significant rallies higher with an abrupt sell-off during the morning session & then going into low-volume chop mode for the rest of the day.
Traders who are attempting to pick the temporary top on the markets will have to wait a bit longer for their day of reckoning. As the market tops out there should be room for more laggard plays as well as writing strategies to capture inflated call premiums from people betting too heavy on the long side.
The past few days has brought us another 6-figure trade from Bank of America and we'd like to examine some of the details below.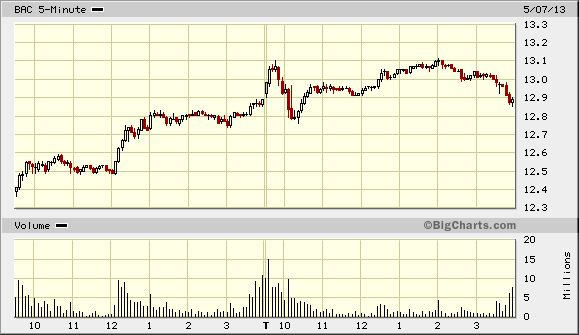 The stock finally took off towards 52-week highs yesterday and I built most of my position around $12.50 before news came out on MBI. The quick pop at 12 PM yesterday pushed up call premiums quite significantly and at that point I couldn't pay up anymore for them. I figured the stock would give me a gap up this morning and I was quick to take the money and run off the open. I positioned myself in the June 7th Weekly Call and purchased 5000 contracts for an average entry right around $.17.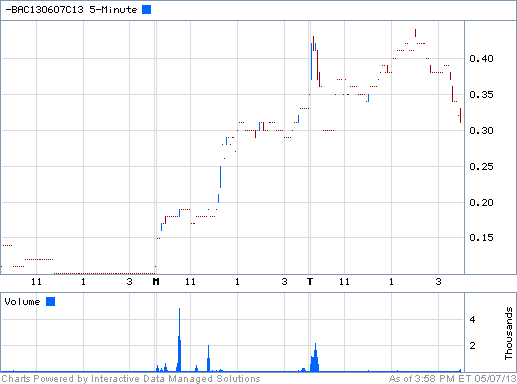 You can see that 12 PM rally yesterday spiked this premium up quite high. I was actually waiting for it to come back down to earth so I could buy more contracts but that never happened. BAC held up well throughout the trading day yesterday and then staged a rally at the close which made me confident of the gap higher. If you take a look at all that volume this morning on this option, you will be interested to know that most of that, if not all of it, was me…
Stick with Lucci!
The following article is from one of our external contributors. It does not represent the opinion of Benzinga and has not been edited.
Posted-In: Options Markets Trading Ideas
View Comments and Join the Discussion!