Trading Update April 29th
The S&P almost clipped all time highs today as the markets continued its recent bull run-up. Tech/Internet names were the breadwinners today with Apple (NASDAQ: AAPL) & Google (NASDAQ: GOOG) at the head of the pack. Home Sales figures came in well above expectations, providing the initial catalyst for the strong move higher today. The Financials sector remained subdued throughout the session, yet was not able to keep the markets down.
Many pundits, traders & investors are calling for the top in the markets and that there is not much more upside. There has to be proof in the price action and it is still too early to tell. There also needs to be a catalyst to persuade large traders & funds to start selling out of their positions.
The big trade today took place in Google & Apple, we'll showcase the Apple trade today…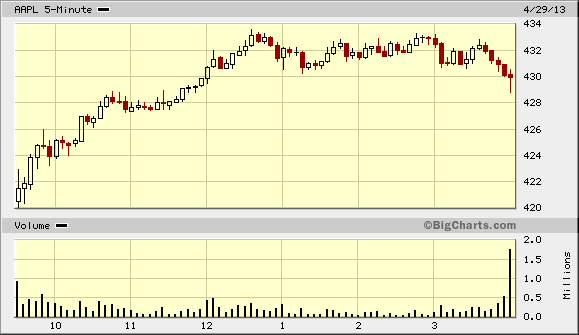 The action on Friday's tape really paved the way for eyeing the direction for this trade. We saw heavy buying on the bid which set the stage for today's rally through a previous broken support level around $420. The stock took off as soon as the markets opened and we saw buyers support all moves higher throughout the session. Futures sold off at the close so many stocks started to give up some gains into the close. We held about 1000 contracts in the $430 weekly call over the weekend.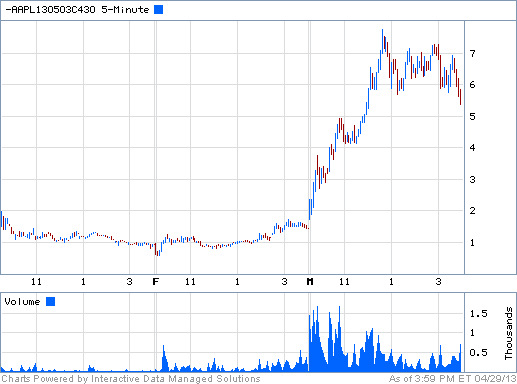 I was wrestling with the Apple long last week and trying to find when the stock would just rocket higher. My instincts told me it would happen today but instincts still can't prepare you to act unfortunately. This option gapped up to about $1.85 from a close around $1.40 and just took off even though the futures were weak off the open. Google was super bullish at the same time and soon my option just started trending higher. I was able to sell out of this option for an average cost of $3.90 but clearly, there was a lot more money left in the trade.
The big picture trades usually happen in one or two days but most of the time, you must develop your position prior to that happening otherwise it'll be too late to build the kind of position you're looking for. Especially if you trade heavy like me.
Stick with Lucci!
The following article is from one of our external contributors. It does not represent the opinion of Benzinga and has not been edited.
Posted-In: Options Markets Trading Ideas
View Comments and Join the Discussion!