Trading Update April 4th
Markets traded miserably today and the headline on every major financials newswire should read, "Premium Erosion". From the perspective of an active options trader, that is all I'm seeing right now across the board on most of the Large-Cap names we watch here at Sanglucci.com. We are looking at a complete mixed bag across our sectors and out of the money calls & puts expiring tomorrow are dwindling their way down to nothing. Unemployment figures are coming out before the market open tomorrow and many traders are placing big bets on the premarket gap in the SPY. To be quite honest, we could go either way so I wouldn't recommend gambling on the results of the jobs reports until well after they've been released.
Facebook (NASDAQ: FB) had a press conference today to unveil its new software called 'Facebook Home'. It's basically a user interface designed to replace the traditional Android home screen. The software will only be available on select model Android phones from HTC & Samsung. The stock responded positively to the news up around 3% and hovering over $27.
One trade I would like to showcase today is this LinkedIN (NASDAQ: LNKD). The option that I have been playing for the week has traded very erratically and the moves on the stock itself are nothing short of surprising. Take a look below…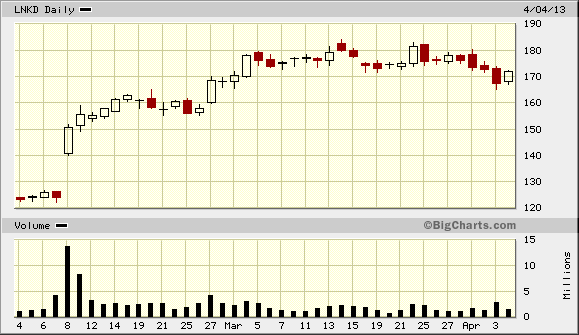 This is a 2-month chart of the action in LinkedIN and if you compare it to Netflix (NASDAQ: NFLX) during the same time period it looks shockingly similar. Both stocks managed to squeeze in the last bunch of longs before reversing to the down side yesterday, influenced by the sharp market sell-off. One would imagine, that she would have some continuation after busting through $170 and sellers would take control of the stock & push her down to the low $160′s. This did not happen, however, and the stock managed to find the buyers to push her right back to where she came from. Consequently, the put option holders saw much of their profits disappear today.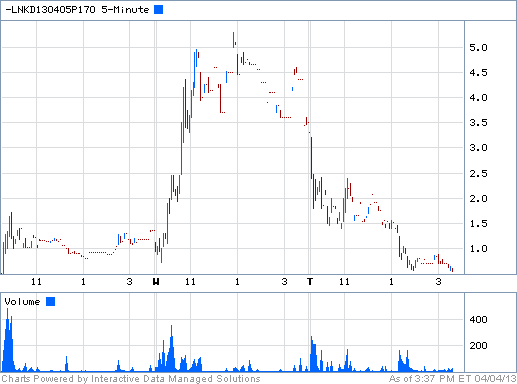 This is a $170 Weekly Put which expires tomorrow and as you can see those folks who decided to hold on to their puts for the second leg down on LinkedIN, did not end up getting paid well at all. Alas, sometimes these things continue and sometimes they don't. Luckily I bailed on half the position yesterday over $4 in this option so I was able to book some gains and not leave everything to chance today. I ended up netting about $205K on this trade in total but I was up over $400K yesterday in it. Not too happy about it but such is life & trading.
Stick with Lucci!
The preceding article is from one of our external contributors. It does not represent the opinion of Benzinga and has not been edited.
Posted-In: Options Markets Trading Ideas
View Comments and Join the Discussion!