Kavanaugh's Confirmation Vote Delayed One Week For 'Supplemental' FBI Investigation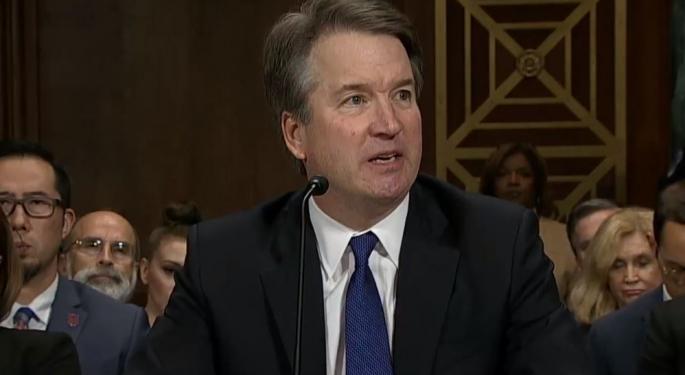 A vote by the full Senate on the confirmation of Supreme Court nominee Brett Kavanaugh is being delayed for one week to allow for a supplemental FBI background investigation after three women came foward alleging they were sexually assaulted by him.
"I've ordered ther FBI to conduct a supplemental investigation to update Judge Kavanaugh's file. As the Senate has requested, this update must be limited in scope and completed in less than one week," President Donald Trump said in a statement released by White House Press Secretary Sarah Sanders Friday afternoon.
The move comes after the Senate Judiciary Committee voted 11-10 along party lines Friday to move forward with Kavanaugh's confirmation. The committee heard a day of testimony Thursday from both Kavanaugh and Christine Blasey Ford, who said the High Court nominee sexually assaulted her when they were in high school.
Two other women, Julie Swetnick and Deborah Ramirez, have also come forward with sexual assault allegations against Kavanaugh.
Senate Majority Whip John Cornyn said a procedural vote will be taken Saturday to decide on a motion to proceed with Kavanaugh's nomination, according to Bloomberg reporter.
Ford's Testimony
On Thursday, Blasey Ford testified to Congress that an intoxicated Kavanaugh pushed her down on a bed, groped her, tried to remove her clothing and held his hand over her mouth when she tried to scream for help.
"It was hard for me to breathe, and I thought that Brett was accidentally going to kill me," she said.
Ford was questioned by senators and prosecuting representative Rachel Mitchell over a four-hour period Thursday about topics that included her willingness to retain counsel; her memories from the night of the alleged assault; her reasoning for staying quiet for 30 years; her relationship with Kavanaugh; and the results of a polygraph exam she took.
Blasey Ford said she was driven by civic duty rather than political motivation to go public with the information.
"I felt it was very important to get the information to you, but I didn't know how to do it while there was still a short list of [Supreme Court] candidates."
Kavanaugh's Testimony
Kavanaugh's angry and emotional opening statement saw judge defending his honor, family and career.
"I love teaching law," he said. "For the past seven years, I've coached my two daughters' basketball teams. I love coaching more than anything I've ever done in my whole life, but thanks to what some of you on this side of the committee have unleashed, I may never be able to coach again."
Kavanaugh named several female character witnesses from high school and college, many of whom were in attendance during the event. He also sought to prove his whereabouts at the time of the alleged assault by going through detailed calendars he kept in the 1980s.
Members of the Senate questioned Kavanaugh about his drinking habits and sexual experience.
Following the hearing, Trump expressed his support for the judge on Twitter: "Judge Kavanaugh showed America exactly why I nominated him. His testimony was powerful, honest, and riveting. Democrats' search and destroy strategy is disgraceful and this process has been a total sham and effort to delay, obstruct, and resist. The Senate must vote!"
Related Links:
Supreme Court Nominee Brett Kavanaugh: What You Need To Know
This Day In Market History: The Supreme Court Is Born
Brett Kavanaugh testifies before the Senate Judiciary Committee Thursday. Screenshot courtesy of C-SPAN.
View Comments and Join the Discussion!
Posted-In: Brett Kavanaugh Christine Blasey FordFutures Politics Top Stories Markets Media General Best of Benzinga