Univ. Of Michigan Economists: 'Trump Bump' Has Yet To Transpire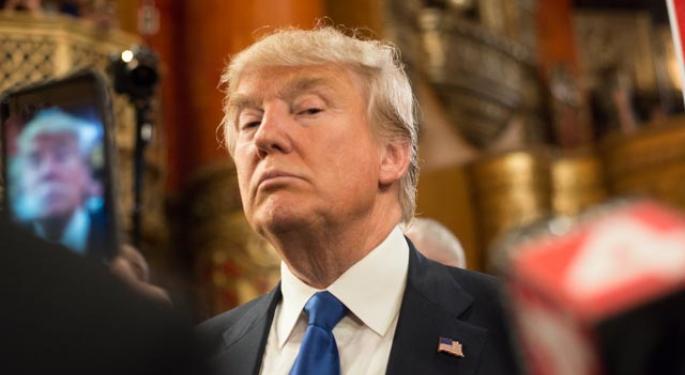 Regardless of your sector, it's been a pretty good year.
Health Care SPDR (ETF) (NYSE: XLV) is up 21.4 percent since President Donald Trump won last November's election. Technology Select Sector SPDR Fund (NYSE: XLK) is up 36.1 percent, Financial Select Sector SPDR Fund (NYSE: XLF) is up 34.3 percent, and the wider market measure of the SPDR S&P 500 ETF Trust (NYSE: SPY) is up 23 percent.
The SPDR Dow Jones Industrial Average ETF (NYSE: DIA)'s 28.5-percent one-year rise is the fourth best post-election rally in the 31 elections since the Dow first emerged, according to LPL Financial.
But it's not necessarily a feat of politics. In fact, some say the "Trump bump" has yet to transpire.
What's Yet To Come
"The Trump Administration has yet to leave a lasting mark on the fiscal landscape," Daniil Manaenkov, professor of economics at the University of Michigan, said in a Wednesday report.
Based on an average 2.4-percent growth rate over the last three quarters, Manaenkov and fellow Michigan economists Aditi Thapar and Owen Nie anticipate a rise in overall economic output growth from 1.5 percent in 2016 to 2.2 percent in 2017, 2.5 percent in 2018 and 2.1 percent in 2019.
They expect Trump's potential legacy to be in tax reform with an annual $150 billion in corporate and personal tax cuts.
"The much-hyped tax reform being debated has the potential to reshape the nation's tax code in a substantial way for the first time since 1986," Manaenkov said. "We believe that federal deficits are going up, but by how much?"
The economists also forecast a continued drop in the U.S. unemployment rate from 4.4 in 2017 to 4.1 in 2019 coupled with:
The two-year addition of 3.7 million jobs;
A two-year, 1.8-percent rise in single-family home sales;
A two-year increase in real disposable income from 1.4 percent to 3.2 percent; and
A two-year increase in core Consumer Price Index inflation to 2.1 percent.
The factors are seen to be compounded by a December interest rate hike, a move against which the Michigan professors caution.
"The recent weakness in core inflation should worry the Federal Reserve," Thapar said. "The Fed has openly admitted that it does not completely understand what is driving the weakness in inflation, but appears resolved to ignore it for now and maintain the pace of rate tightening."
Year 2 Expectations
Precedent suggests 2018 will underperform 2017 but still yield positive results. LPL Financial draws optimism from a strong market uptrend, cyclical sector outperformance and stock outperformance of bonds.
"While the technical conditions look good, we continue to closely monitor fundamentals, particularly policy developments out of Washington and geopolitical risks overseas," LPL strategists John Lynch and Jeffrey Buchbinder wrote in a Monday note. "We expect to see potential gains in the coming year, but policy achievements will likely be required."
Related Links:
What Pharmaceuticals Spend On Lobbying To Influence Trump
'Trump Bump' Continues In Media In Spite Of Presidential Criticism
Photo credit: Emily Elconin
Posted-In: Aditi Thapar Daniil ManaenkovFutures Politics Top Stories Economics Markets General Best of Benzinga
View Comments and Join the Discussion!