Love Means Never Having To Say You're Sorry: NY Times Wants Fox To Apologize For Claiming Paper's Leak Led To Terrorist Escape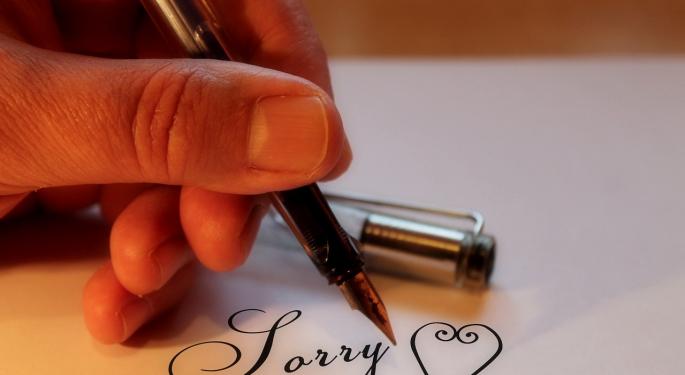 The New York Times' demand for an apology from Twenty-First Century Fox Inc (NASDAQ: FOX) is part of a long line of media mea culpas either granted or denied for slights real or perceived.
The newspaper asked the Fox News show "Fox & Friends" to retract a report that the Times (parent company New York Times Co (NYSE: NYT)) was to blame for the 2015 escape of a Islamic State terrorist leader Abu Bakr al-Baghdadi.
"I am writing on behalf of The New York Times to request an on-air apology and tweet from Fox & Friends in regards to a malicious and inaccurate segment 'NY Times leak allowed ISIS leader to slip away,'" wrote Danielle Rhoades Ha, vice president of communications for the Times.
The "Fox & Friends" report, which aired Saturday, triggered an outburst on Twitter Inc (NYSE: TWTR) by President Donald Trump: "The Failing New York Times foiled U.S. attempt to kill the single most wanted terrorist, al-Baghdadi," the president wrote later Saturday. "Their sick agenda over National Security."
Later Sunday, Fox linked the New York Times letter to its original story and issued this statement: "The FoxNews.com story was already updated online and Fox & Friends will also provide an updated story to viewers tomorrow morning based on the FoxNews.com report. For all of their concern about accuracy, the New York Times didn't reach out to anyone at Fox News until Sunday afternoon for a story that ran Friday night."
Apologies are like snowflakes: No two are identical.
Consider:
McMaster was actually replacing former National Security Advisor Michael T. Flynn, who lied to FBI investigators about contact with Russian officials prior to Trump's inauguration.
Related Link: United CEO Apologizes To Violently Bumped Passenger
View Comments and Join the Discussion!
Posted-In: Abu Bakr al-BaghdadiFutures Politics Psychology Top Stories Markets Media General Best of Benzinga