Trumptastic URL Redirects Mock 'Failing NYT' Chorus To The ACLU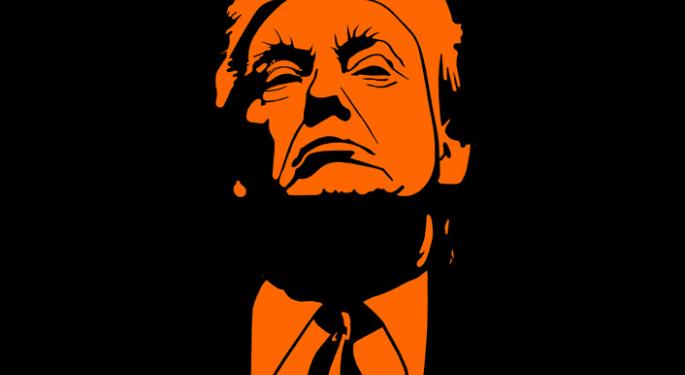 If you use one of President Donald Trump's favorite adjectives to describe one his least favorite news organizations, just punch in www.thefailingnewyorktimes.com and — voila! — you're redirected to the American Civil Liberties Union's website.
Type www.hail-hydra.com — yes, that's the greeting that members of the fictional fascist organization that populates the multimedia comics world of Marvel Entertainment, LLC — and you wind up at www.whitehouse.gov, the official website of the Trump presidency.
URL redirects aren't new — they're used for marketing purposes and selling aids by such e-commerce companies as Shopify Inc (US) (NYSE: SHOP) and Godaddy Inc (NYSE: GDDY) — but they're often subtle and not-so-subtle bits of social commentary.
Or maybe it's a bit both.
Hail, Hydra!
The Hollywood Reporter reported Thursday the domain name "hail-hydra.com" was taken out in 2014, the same year the Marvel/Walt Disney Co (NYSE: DIS) movie "Captain America: The Winter Soldier" came out.
The movie was a conspiracy thriller in which pillars of society and government were secretly members of Hydra, which has its mythical roots in Nazi Germany. Members greet each other with conspiratorial whispers of "Hail, Hydra!"
Marvel's comics division is currently running a polarizing storyline in which Captain America himself, the sentinel of liberty, has always been a Hydra double agent.
The Hollywood Reporter said the hail-hydra redirect was updated in mid-April, well before Trump fired FBI director James Comey, who was leading an investigation into the Trump campaign's ties to Kremlin-linked election mischief.
ACLU Hammering Trump Hard At Redirect
Trump's constant use of "failing New York Times" in his Twitter Inc (NYSE: TWTR) responses represents, to some, the native New Yorker's desire to seek approval of his hometown paper.
The website isn't just a demonstration of how fiercely some are going after Trump, but a clever bit of marketing itself; one click in, and you're taken to a page where you can donate to the cause.
"We're actually not involved in this and don't know who's behind it — but it's fantastic and we're always grateful when supporters come up with inventive ways to send people our way," ACLU Medua Strategist Josh Bell told Benzinga in an email.
The NYT itself is having a bit of fun with the idea. Just typing in www.failingnewyorktimes.com — without the "the" — takes you to the front page of the paper.
Colleges are rife with redirects rubbing in a particular rivalry, such as one deployed by a loyal fan of the University of Michigan. Typing www.michiganrejects.com takes the browser to the home page of Ohio State University.
To those so inclined, the website www.fakenews.com appears up for sale.
Related Links:
8 Of The Most Popular 'Fake News' Websites
Is $100 Million Enough To Defeat Fake News?
_______
Image Credit: By DonkeyHotey [CC BY-SA 2.0 (http://creativecommons.org/licenses/by-sa/2.0)], via Wikimedia Commons
Posted-In: Futures Politics Top Stories Exclusives Markets Tech Interview General Best of Benzinga
View Comments and Join the Discussion!