Patience Yields Much Better 'Sell Rosh Hashanah, Buy Yom Kippur' Results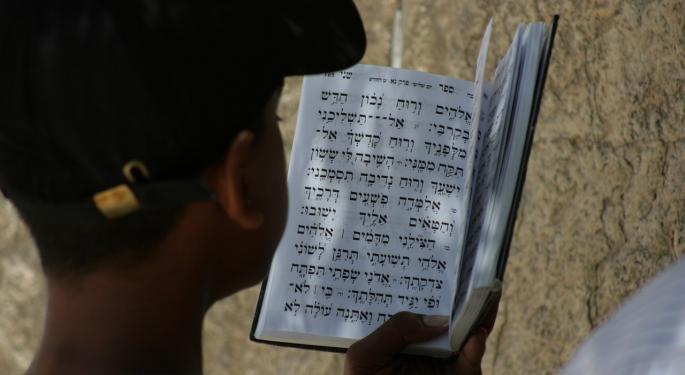 Joel Elconin is the co-host of Benzinga39;s #PreMarket Prep, a daily trading idea radio show.
Investors know how important the timing of seasonal strategies can be to their overall returns. On many occasions, the closing the price on the days being observed can be deceiving.
Therefore, when reviewing this year's "Sell Rosh Hashanah, Buy Yom Kippur" results, the closing prices may not tell the entire story.
The Story Right Now
For now, the overall return from the strategy will show a nominal return. The index appears to be closing near the 1920 level, resulting in the overall return from the pre-Rosh Hashanah close (1950.25) as nominal.
Although, if an investor had waited for the pre-Fed meeting run-up and the deceiving rally right after the announcement, they may have an entry price well above the closing price on September 11.
Related Link: Seasonal Strategy: Sell Rosh Hashanah And Buy Yom Kippur
In addition, if investors could not stomach the market off the open, an opportunity to reinvest arose around 11:00 a.m.
With the futures index 110 plus handles lower than last Thursday's post Fed meeting high (2011.75), the index breached 1900 for the first since September 4 and other relevant levels came into play.
Technicals
First of all, technicians tend to focus on whole numbers in stocks, futures and other trading instruments. Thus, the round number of 1900 may have come into investors minds as it came into play. Also, it should be noted that the last two lows in the index that were under 1900 were on September 2 (1898) and September 4 (1898.50). Thursday's low – just below that double bottom at 1897.25.
Coincidentally, many of the index's top components came into important support levels as well. For example, Exxon Mobil found support under $72, as it had on several other occasions in the past few weeks. Microsoft Corporation caught a bid at $43,30 level and General Electric did the same as it approached the major support level of $24.50.
Of course, it is always easy to point out these movements after the fact. However, if investors can commingle some of their own investment strategies with seasonal strategies, they may be able to enhance their overall portfolio returns.
Image Credit: Public Domain
Posted-In: Futures Technicals Movers & Shakers Intraday Update Markets Trading Ideas General
View Comments and Join the Discussion!