Marvel Comics New Muslim Character Could Diversify Cinematic Universe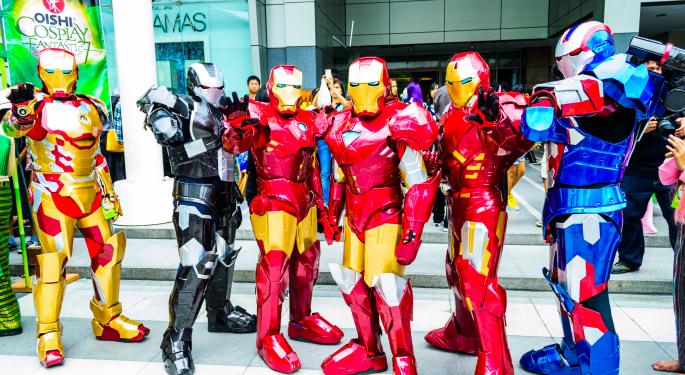 DC Comics and Marvel are known widely as comic book royalty.
By sporting rabbit and mouse ears respectively, they have access to big funds that translate into better writers, actors, directors and animators for their big-budget films.
While Time Warner (NYSE: TWX) and Disney (NYSE: DIS) are the snowy mountain tops that feed the proverbial rivers of money that this generate blockbusters, the true heart of the story comes right from the page.
August marked the first, very small appearance of Marvel's rebooted Ms. Marvel character Kamala Khan in Captain Marvel #14 (not to be confused with that other guy Shazam). Khan is a teenage, first generation Pakistani-American Muslim superhero based in New Jersey who struggles with her religious faith, and pressures at home from her mostly conservative Muslim family, in addition to fighting crime. She has the superhuman ability to stretch and morph her body at will.
Her next appearance came in November in Captain Marvel #17, when Marvel announced that they would be giving Khan her own title to headline. Her first major appearance will be in All-New Marvel NOW! Point-One #1, with her taking over the Ms. Marvel moniker full-time in Ms. Marvel #1 in February.
Shaking up perceptions by helping breakdown the negative stereotypes that surround certain races and religions is nothing new to marvel (a concept that dates back to the X-Men and the Civil Rights Movement). Not only does the title deal with the difficulties of being a superhero, but it continues Marvel's tradition of dealing with sensitive issues such as stereotypes and societal labels. It was a smart move on Marvel's part to diversify their roster, especially with a female role model that can be a positive influence to young Muslim girls facing the American experience.
The media buzz around the Khan character might help bring in new fans to the series, or to comics altogether, and shows a willingness on Marvel's part to continue in evolving both major and second-string heroes with an ever-changing American population, much like the multiracial Spider-Man Miles Morales and Nick Fury (actually designed after Samuel L. Jackson before he played the charter on-screen) under the Ultimate Marvel imprint. Like Fury, Khan could not only help diversify Marvel's comic universe, but the cinematic one as well.
Related: Warner And DC Comics' Six Dynamite Moves Leading Up To 'Batman Vs. Superman'
For Marvel, it's all about their strength as storytellers, and if the new Ms. Marvel proves to be popular in the comic books, then she could potentially see time as a character in future films.
According to Comichron, an online database that compiles comic book sales statistics, the North American market pulled in between $700-730 million in 2012. When compared to 2000's sales which came in at $255-275 million, the industry has nearly tripled its numbers over the past twelve years. That decade plus has included a long and ever-growing list of major blockbuster movies based on characters rich in mythology and popular with fans and average moviegoers alike. Even the critics have been mostly happy, with the exception of a few disastrous executions with both massively popular characters and lesser-known titles (Superman, Punisher and Green Lantern etc.).
All in all, Marvel has had a much stronger series or wins with their film franchises, which suggests more room to experiment while taking some risks. Just look at the Guardians of the Galaxy flick that's being tied into the Marvel Cinematic Universe through The Avengers family of films. Most people, even many comic book fans, probably couldn't tell you much about that group of superheroes, but when rebooted or newer titles have some momentum and edge, great things can happen. It doesn't hurt when superheroes like the Guardians of the Galaxy also look fantastic for brand merchandising, whose characters range from super bad-ass to a type of "Star Fox" cute.
Yes, the silver screen (actually technically making a comeback with the surge in 3D films) has been good to the comic book industry, which is due to see more major profits boosts in the years to come if they continue scoring major motion picture wins. Between the two major powerhouses, both DC and Marvel have helped their parent companies rake in major dollars (billions) through merchandise, theme parks, and anything else tied in with their popular characters and their films. And thus the metaphorical water cycle is complete as the dollar signs snow down onto the mountain tops.
Perhaps Khan's Ms. Marvel can find her way into a Captain Marvel film in the future or get tied into a bigger project in some other way. After all, in an episode of Ultimate Spider-Man titled "Guardians of the Galaxy," the group's leader Star-Lord names Captain Marvel as one of Earth's great heroes. So maybe we'll see him in film down the road, or maybe Captain Marvel will simply play a part in a re-imagined Carol Danvers origin story tailored to Khan, as the former acted as a one of the Avengers for some time, and she could will get a film to herself.
Despite whatever may happen, Marvel President of Production Kevin Feige told Wired Magazine that they have movies planned all the way up to 2021, and while no one knows why they are yet, Marvel has three unannounced films slotted for May 6, 2016, July 8, 2016, and May 5, 2017.
With an Ant-Man movie is coming, and Doctor Strange is getting his own film too, Marvel fans are left to wonder what other superheroes from the roster will be making their way to the big screen, and whether or not most of them will still be while males…
Jason Cunningham had no position with the mentioned entities while writing this article. Visit Jason on Twitter at @JasonCunningham and @Benzinga.
Posted-In: Ant-Man Captain Marvel civil rights Comichron DC ComicsTopics Media General Best of Benzinga
View Comments and Join the Discussion!