Why Traders Should Consider Traditional Investments Over Cryptocurrency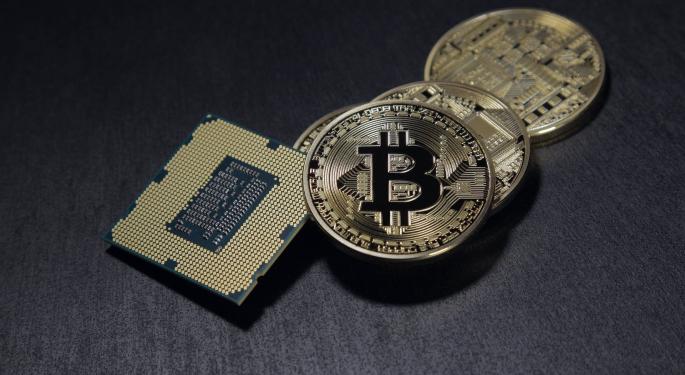 As cryptocurrencies like Bitcoin gain both public awareness and record-high trading rounds, investors of every stripe are looking to alternative investments rooted in the digital marketplace. But if December's sudden and unexpected downturn is of any consequence, it should put traders on alert that these cryptocurrencies may not be the lucrative long-term cash cow speculators raved about just a few years ago.
Despite a dramatic surge in value - a nearly 650% increase in just 10 months - investment strategists and financial advisors have been ringing the Bitcoin bubble bell throughout 2017.
"The price level and energy usage is unsustainable," warned Jason Escamilla, CEO of ImpactAdvisor, a San Francisco-based investment advisory firm. "There is far better technology emerging to meet the same needs."
Bitcoin relies on computer processing power to solve complex algorithms known as "blocks." Bitcoin "mining" has become a lucrative industry and even the target of malicious computer hijacking - even by companies and legitimate websites seeking alternative revenue streams as advertising dollars begin to dry up.
Taxation Issues Still Aren't Ironed Out
In order to generate wealth and value from cryptocurrencies like Bitcoin, one must buy or sell Bitcoin on an exchange (much like a traditional currency exchange) to U.S. dollars or other internationally-recognized currencies. For these reasons, the United States Internal Revenue Service issued a notice for taxation on virtual currencies in 2014, treating it as "property for federal income tax purposes." Furthermore, Notice 2014-21 stated that "General tax principles that apply to property transactions apply to transactions using virtual currency," another sign that the IRS is taking a careful look at cryptocurrencies and treating any income generated by them as a capital asset.
This is an important distinction. Rather than treating cryptocurrencies like a traditional currency, the IRS is imposing both significant taxes and record-keeping requirements on those who trade and deal in Bitcoin. These decisions allow the IRS to subject income generated by cryptocurrencies to either short-term capital gains rules (like ordinary income taxes) or long-term gains should the asset be held for longer than 12 months, mandating a 15-20% tax rate.
Lack of Investment Vehicles
Those who hold cryptocurrency currently have two investment options: either jumping between different currencies as value shifts or investing in private equity or crowdfunding through Initial Coin Offerings (ICOs). The latter allows for a greater volume of cryptocurrencies to be traded, albeit in a fragmented manner. The former is hugely risky, with some experts comparing ICOs to the early Internet economy of the 2000s. Either way, traditional investors should see plenty of red flags when considering putting capital toward cryptocurrencies in this current market environment.
Furthermore, cryptocurrency exchanges are reliant on online services, which may turn away traditional investors. On top of security risks and the largely unregulated peer-to-peer nature of these exchanges, it's important to do your research and carefully consider which exchange to use should you choose to invest in a cryptocurrency.
Remarkable Security Risks
Last August, an Ocean's 11-style Bitcoin heist at a cryptocurrency exchange called Bitfinex made history - and not for the right reasons. Hackers penetrated a secure authentication system and made off with about $70 million worth of Bitcoin - and it was only the second-largest Bitcoin heist in history.
A report by Reuters in 2016 estimates that nearly one-third of Bitcoin trading platforms - an essential element in converting the cryptocurrency to traditional currencies - have been hacked. With no depositor's insurance, no standards for cybersecurity around cryptocurrencies, and no real effort by law enforcement agencies to prevent or track down cyberheists, early investors (and yes, it's still early) have few options should their computer or exchange platforms be compromised.
Darin Stanchfield, CEO at KeepKey, a hardware wallet provider, says these type of attacks are certain to continue despite improvements to security at Bitcoin exchanges.
"Unfortunately because of its irreversible nature, Bitcoin requires near perfect security," he said. That's bad news for small investment firms and individuals without a working knowledge of cutting-edge cybersecurity methods and techniques.
Increased International Scrutiny
Cryptocurrency benefits from a lack of centralization compared to other currencies, which are regulated and maintained by government agencies and oversight groups. The general anonymity (while decreasing in recent years) of transactions has also made it a popular method of illicit activities like money laundering, criminal payments such as hacking ransoms, smuggling, and drug-related transactions. These elements have contributed to an increased interest by law enforcement and regulatory agencies looking to curb the flow of illegal activity funded via cryptocurrencies. The simple fact that an investment in Bitcoin can open you up to increased scrutiny by law enforcement should be enough of a warning sign to turn away the casual investor.
If You Choose to Invest in a Cryptocurrency
Cryptocurrencies like Bitcoin carry no intrinsic value other than what a buyer is willing to pay for it. That said, as with every highly speculative investment, you should exercise extreme caution when investing in a cryptocurrency. The market, as demonstrated over the last few years, is remarkably volatile and all the bells and whistles signaling a bubble about to burst are currently ringing. While the general opinion on the actual long-term value of cryptocurrencies is still mixed, know that advocates point toward the limited supply and increasing usage as signs of greater value while detractors look to historical factors as signs that the bubble is about to burst. A conservative investor is best to avoid an investment in cryptocurrencies at the moment.
For these reasons, it's important for traders to continue to consider and invest in traditional companies and industries over cryptocurrency - at least until the bubble bursts and the dust has settled.
The preceding article is from one of our external contributors. It does not represent the opinion of Benzinga and has not been edited.
Posted-In: contributor contributorsCryptocurrency Forex Markets
View Comments and Join the Discussion!