Sterling Seen Boosted By The UK CPI Decelerating More Than Expected In January
Looking at the economic development in January, the UK inflation is expected to decelerate in January as the prices tend to drop in a post-Christmas period to attract consumers while global commodity, especially oil prices fell lower and Sterling trading at fresh post Brexit highs in January.
It was already in December 2017 that the UK inflation rate decelerated unexpectedly to 3.0 percent y/y while the further easing of the UK consumer price inflation (CPI) is expected to come with CPI reaching 2.9 percent y/y in January this year.
While the headline inflation is expected to decelerate to 2.9 percent y/y, the core inflation excluding prices of food and energy is set to accelerate to 2.6 percent y/y from December's 2.5 percent y/y.
In terms of monetary policy, such divergence of headline and core inflation is negative because it indicates that the headline CPI deceleration is driven only by seasonal and temporary factors while demand-driven inflation is on the rise. That should imply sooner and greater monetary policy tightening than expected and drive GBP to stronger levels.
The Bank of England has already indicated last week that it means its hawkish U-turn on rates in the UK serious. It has lowered its short-term inflation forecasts and said that "sustained above-target inflation remains almost entirely due to the effects of higher import prices following sterling's past depreciation. These external forces slowly dissipate over the forecast, while domestic inflationary pressures are expected to rise."
At the same time, the Bank of England said that "monetary policy would need to be tightened somewhat earlier and by a somewhat greater extent over the forecast period than anticipated at the time of the November Report" lifting the rate hike expectations to May 2018 rate hike to 50-50. With the change in the number of expected rate hikes for the mid-term horizon of next three years from two 25 basis points rates hike to three 25 basis points, the Sterling was boosted massively.
Any upside surprise in the UK inflation should, therefore, be seen as rate hike negative and therefore Sterling negative. On the other side, should the UK inflation decelerate more than expected, the probability of May rate hike increases and Sterling will appreciate.
Decade of UK inflation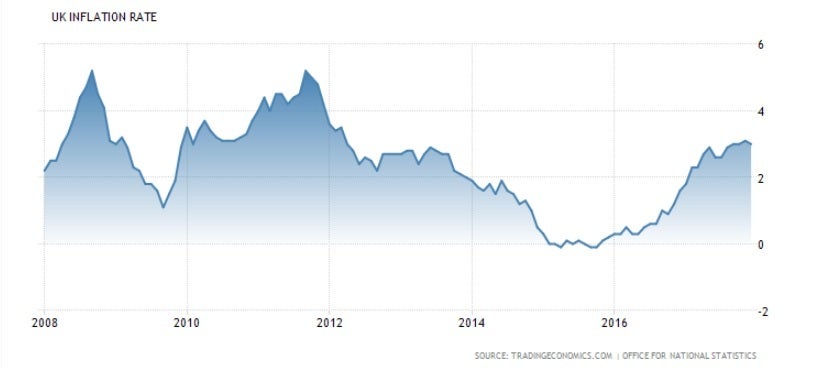 View Comments and Join the Discussion!