Finance Twitter Has Field Day Amid Brexit Results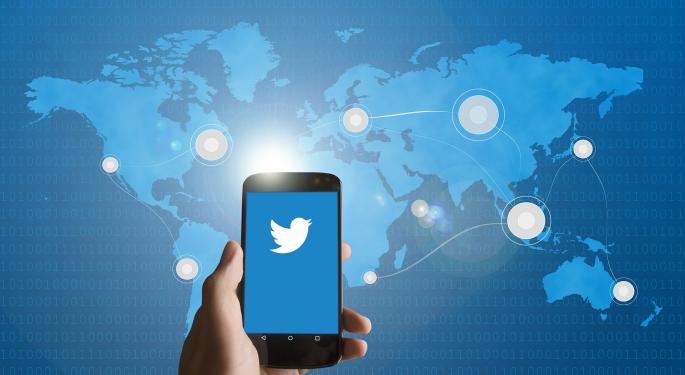 In regard to the tumultuous secession of the UK from the European Union, people around the world are posting their thoughts on Twitter Inc (NYSE: TWTR).
The market is taking a wild ride Friday. With the pound hitting a 30-year low, investors and analysts alike are scrambling for the next bit of current information.
In a recent Reuters article, Tanya Agrawal and Yashaswini Swamynathan gave their opinion on the market outlook, "U.S. stocks plunged at the open on Friday, with the Dow Jones average falling more than 500 pointes, after Britain's vote to quit the European Union delivered the biggest blow to the global financial system since the 2008 financial crisis."
Those within the investment field and those outside are using Twitter to discuss the madness, taking to humor to make light of a potentially devastating situation.
Related Link: Will Today Become Britain's Black Friday? Stock Panic Through The Years
Some humorous approaches to the situation are highlighting the role of technology in a historic decision.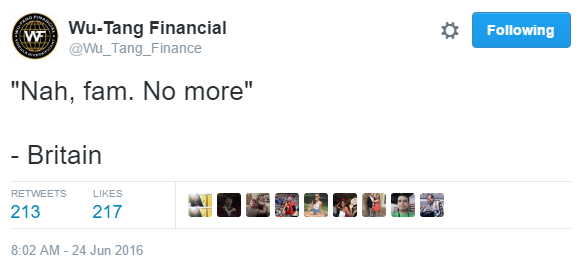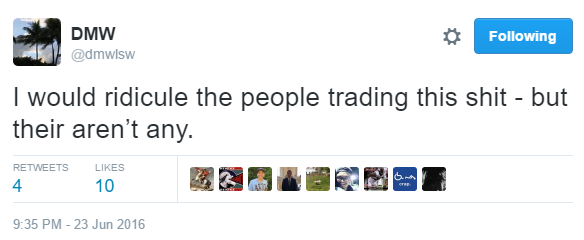 On a more serious note, a lot of Twitter users are commenting on the usurped secession of UK citizens who did not agree with the decision. Millennials are claiming their future is no longer secured because of the vote, while others are pointing to Scotland's vote to stay. While millions of voices are going unheard, a few ring out with striking clarity.
Wajahat Ali, creative director of Affinis Labs, a startup that hosts "hackathons" to promote ideas for global change, gave his opinion on the Brexit vote.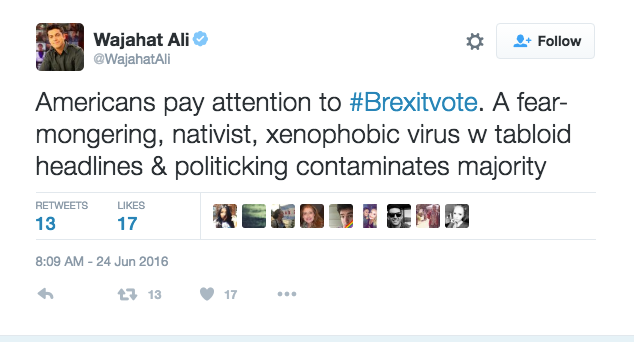 Another voice that stands out is Brent Staple's, a New York Times editorial writer and essayist.

Some are even heeding a call to young Americans to use this as an example for why voting is so important in the November 2016 presidential election.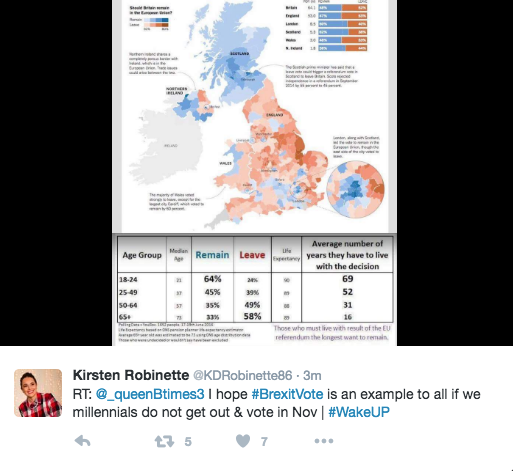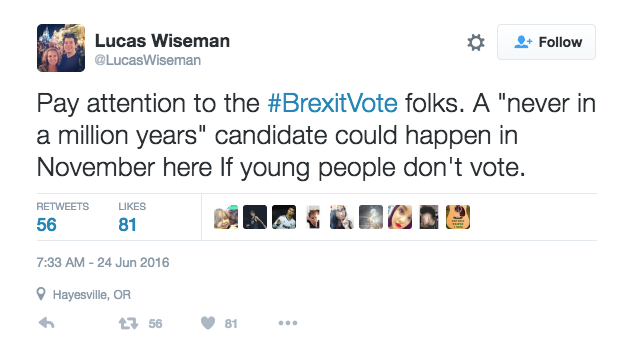 Looking for more thoughts on the market or the succession as a whole? Check out #brexitvote on Twitter.
View Comments and Join the Discussion!
Posted-In: Eurozone Politics Events Global Markets Tech Media General Best of Benzinga