What's Going On With Greece, According To This Economist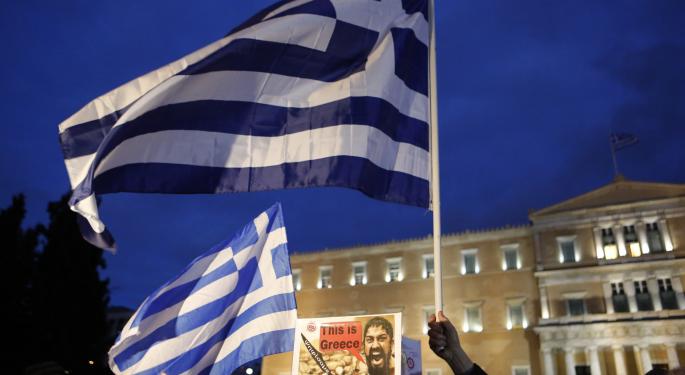 Dr. Mikhail Melnik, Bloomberg Economist and Professor at Kennesaw State University, recently spoke to Benzinga about the economic situation in Greece.
Dr. Melnik said that he tended to agree with recent comments comments from Alan Greenspan and George Soros.
"I do believe that the situation in Greece is rather difficult and the recent election results only helped make a complex economic issue into a complex political one. There is a decent likelihood that we may see Greece exiting the Eurozone," according to Dr. Melnik.
The economist felt that there is a possibility that Greece would get a "small and partial" bailout or restructuring to get it through its debt payments that were due through the Easter celebrations, although there was no certainty.
Related Link: Here's What Happens If Greece Runs Out Of Money
Beyond the Easter season, however, things looked "rather pessimistic."
"What worries me is that there is little political support in Greece, Germany and even throughout the EU for a meaningful solution. When an economic crisis escalates into a political one, it makes it much more difficult to address," Dr. Melnik cautioned.
The professor also indicated that it may seem advantageous for the major political parties the EU "to assume a tougher standing on Greece."
Dr. Melnik concluded, "At the same time, the recent elections in Greece, reduce its ability to compromise also. So, I am in line with Greenspan and Soros and feel that the long term outlook is potentially not as optimistic."
Posted-In: Alan Greenspan Bloomberg Dr. Mikhail Melnik George SorosEurozone Economics Exclusives Markets Best of Benzinga
View Comments and Join the Discussion!