CMC Markets Analyst Michael Hewson On Stunted German Growth, Why The Fed Is Watching Europe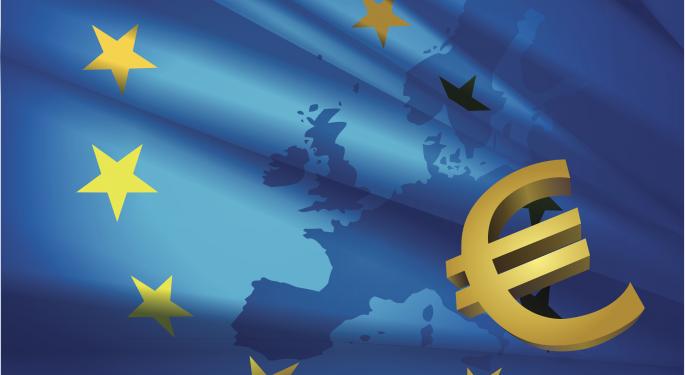 CMC Markets Chief Analyst Michael Hewson thinks that even though Germany has a budget surplus right now, its economic growth is stalling out.
Hewson joined Benzinga's #Premarket Prep broadcast to talk about what's moving the markets in both the eurozone and the United States.
Related Link:Malte Kaub On New All-Time Highs For DAX
"German factory orders data for August was the worst since 2009. The industrial production data: worst since 2009. And now we've seen a significant drop in exports for August, as well. We dropped 5.8 percent, and imports dropped 1.3 percent as well," Hewson said.
Early #FTSE 100 gains slowly evaporate as index goes negative

— Michael Hewson (@mhewson_CMC) October 9, 2014
Germany has been the biggest economic driver of the eurozone economy, but now many suspect the country's economy is slowing in growth.
"I think it's just a reminder to markets and investors in general that the European banking system has it's own difficulties, and we've got the asset quality review from the ECB later this month because the European Central Bank is due to take over regulation of the European banking sector," Hewson said. "So, what it needs to do is find out where all the hidden nasties are."
Fed Meeting Minutes
He also commented on the FOMC meeting minutes that were released this week
"What struck me about this particular set of minutes is that ordinarily, the Fed doesn't really care that much about the global economy or what other economies are doing," Hewson explained."But they were worried about the effect that the slowdown in Europe was actually having on the strength of the dollar ... pushing down inflationary pressures within the U.S. economy and making it much more difficult for them to actually hit their inflation targets."
Hewson also thinks the market was getting slightly ahead of itself by thinking they there would be a rate hike any time soon after the end of quantitative easing this month.
He compared the situation to when the Bank of England ended quantitative easing in the United Kingdom two years ago.
"So, rates can stay low for quite some time after the end of asset purchases. I think the market is slightly getting ahead of itself with respect to potential for a rate hike, and that's certainly being reflected in bond markets over here this morning," Hewson said.
Check out his full interview here:
Don't forget to tune in to Benzinga's #PreMarket Prep Monday-Friday 8-9:45 a.m. ET for the No. 1 source of #PreMarket news and analysis.
Posted-In: CMC Markets ecb Fed FOMC Michael HewsonEurozone Markets Interview Best of Benzinga
View Comments and Join the Discussion!