The Fed Meeting & ECB QE: What Should Be Expected?
This week, the world will discover the outcome of two very critical financial events: (1) what the FOMC will do with its decision on raising rates, and (2) the details of the ECB QE-EuroStyle action on Thursday when the central bank is expected to dish out cash on the cheap to banks for long periods in targeted longer-term refinancing operations (TLTROs).
The TLTRO program is designed, according to Morgan Stanley, to provide, "additional credit easing (CE) as the asset purchases will allow banks to make room on their balance sheets to extend fresh loans, which is also encouraged by the TLTROs, and balance-sheet expansion (QE)."
The program will do this by opening up more lending following a forced balance sheet restructuring thanks to Asset Quality Reviews (AQRs) and stress tests, both of which are expected to address credit supply constraints.
ECB QE, on the other hand, will stimulate credit demand by injecting money into the system and lowering the value of the Euro, which should support exports and bring up inflation expectations.
On Sunday, the Federal Reserve members received a comprehensive analysis book commonly referred to as the "Teal Book." It's a merger of two previous economics book, Green and Blue, used by the Fed to gauge economic activity ahead of its rate decision.
Unlike the Beige Book, which is readily available to the public, the Teal Book is not released to the public for five years.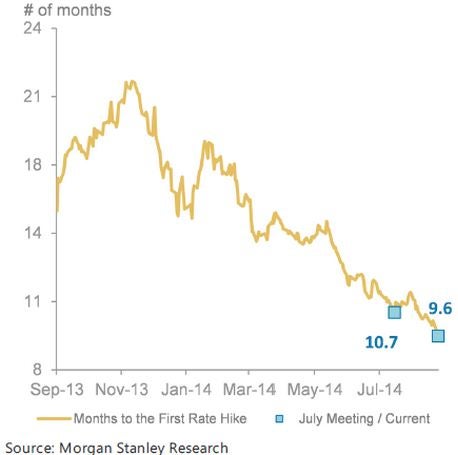 Morgan's data shows that most participants are still expecting the first Fed rate hike to hit in the first half of 2015, more accurately in June.
Related Link: The VIX Is Cheap – Is It Time To Buy?
The critical point when discussing Fed action is to remember the Fed has serious potential to make a mistake.
If it does not stop manipulating the US economy with relative behavior that impacts expectations -- and the perception of assets prices -- eventually, there's a possibility the system will fall into a Japanese-style spiral.
If the Fed moves too fast, though, it risks the public perception that the past five years have been manufactured, and that growth will be discounted (Reuters noted this recently as well).
Because of this, expect the language this week to highlight a "strong expansion" in place of "recovery."
Posted-In: ecb European Central Bank Federal Reserve Scottish Independence The FedEurozone Markets
View Comments and Join the Discussion!