Euro Sinks On Dollar's Strength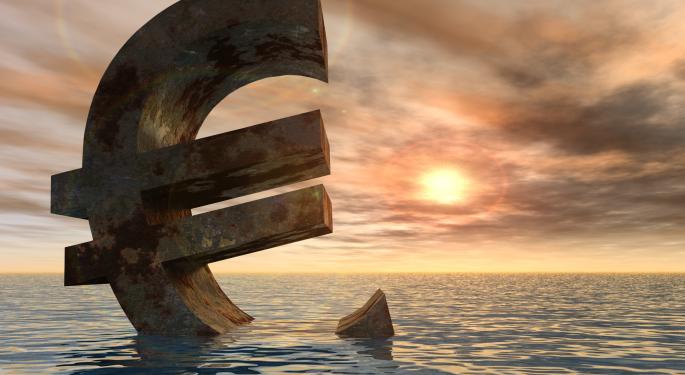 The euro remained below $1.30 on Wednesday as the dollar strengthened to almost a six week high against the common currency.
With most betting that the US Federal Reserve is planning to begin tapering its $85 billion per month bond buying plan at the September 17th-18th meeting, the dollar has climbed.
A strong spat of data from the US has supported speculation that the Fed will conclude that the US economy is strong enough to stand on its own. This week, jobs data is expected to show that employers added 180,000 jobs in August after adding 200,000 in July. Despite the rise in new jobs, most aren't expecting to see the US unemployment rate fall below its current 7.4 percent.
Related: Benzinga Market Primer: Wednesday, September 4: Manufacturing Data Supports Hope For A Global Economic Recovery
In the eurozone, investors are focused on the European Central Bank meeting on Thursday and German elections on September 22nd. At the ECB meeting, interest rates are expected to remain constant, and bank President Mario Draghi is likely to continue with the banks latest foray into forward guidance by reiterating his pledge to keep interest rates low for an extended period.
With elections coming up, Angela Merkel has taken a much more cautious tone when speaking about closer integration between eurozone members. Although she has called for closer fiscal ties and agreed to a centralized banking union, Germans have made their frustration with footing the bill for other eurozone nations clear this election season.
Reuters reported that in a recent poll more than half of the German respondents said that although they wanted Germany to remain in the euro, they would prefer that the bloc was just a "select group of more similar countries."
The poll reflects Germans' dissatisfaction with providing loans to countries like Greece and Portugal and their unwillingness to support a debt write down under any circumstance.
Posted-In: European Central Bank Federal ReserveEurozone Commodities Forex Economics Federal Reserve Markets Best of Benzinga
View Comments and Join the Discussion!