Consumer Study Shows Which Cannabis Brands Are Winning The Design Race And Why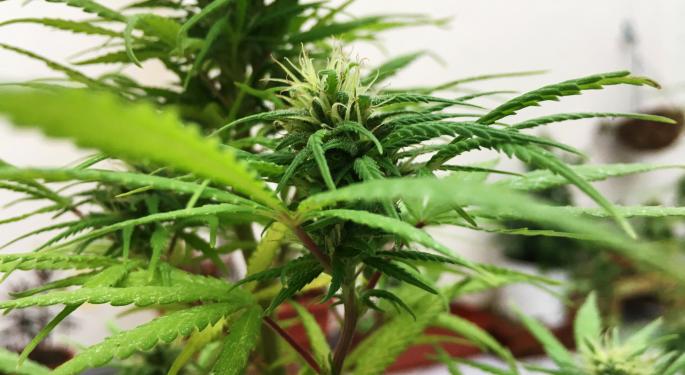 Last week, a graphic designer shared a link to a post titled "How Sophisticated Branding Aims to Make You Rethink Cannabis" with Benzinga. The article, published on Adobe Systems Incorporated (NASDAQ: ADBE)'s creative community/blog "99U" explained how distinct branding was key for brand building as the cannabis industry continues to mature.
"The hand-painted signs, bad puns, and Rastafarian flags that once defined the industry are giving way to sophisticated design that abandons aging stoners in favor of more upscale clientele," author Scott Kirkwood wrote.
In fact, the rise of a professional look to the detriment of the Rasta/Bob Marley kind of aesthetic is a trend that's being increasingly seen across all sub-segments of the legal marijuana industry. So, when we came across High Pressure Zone's recent report, "Cannabis: How marijuana is joining spin class, pressed juice and craft beer as a lifestyle brand," we were quite interested.
Lifestyle Brands & Design
No matter the category or industry, a lifestyle brand usually seeks to shape how its customers live, appealing to a particular culture or group. Think Lululemon Athletica inc. (NASDAQ: LULU), Whole Foods Market, Inc. (NASDAQ: WFM), Kate Spade & Co (NYSE: KATE) or even Apple Inc. (NASDAQ: AAPL). The thing is, a lifestyle brand's product should fit right into its target customer's way of living and everyday activities.
But, creating a lifestyle brand is not easy at all. Interestingly, one of the most important elements in the process is design.
"Design should be there to educate people, drive sales and improve the customer experience," HPZ co-founder JJ Kaye told Benzinga in a recent conversation. The aim is to find a middle ground between how designers (or traditional creative people) understand design and how the rest of the word sees it.
The Report
Talking with entrepreneurs in the cannabis industry, Kaye came to the conclusion that companies cannot grow by just going after existing marijuana users. Of course, he was not the first to discover this, but this realization was fundamental for the development of HPZ's report.
"We need to step away from the stereotypical message and brand that is cannabis," he said, noticing how worn out all the "420 puns and ridiculous names" are. Suddenly, serious players want to become the Starbucks Corporation (NASDAQ: SBUX) of cannabis: "more mainstream and acceptable, less in-the-shadows." It's a new spin aimed at figuring out how cannabis fits in consumers' lives, without marijuana use defining them.
So, HPZ started to look at brands. They decided to base their first examination on a High Times article on 21 cannabis brands to watch, asking real consumers to rate these brands in terms of how refined and how familiar they look.
It quickly became clear that the people who were interested in cannabis – but weren't regular users — were drawn to brands that seemed to be more mainstream and lifestyle oriented, Kaye told Benzinga.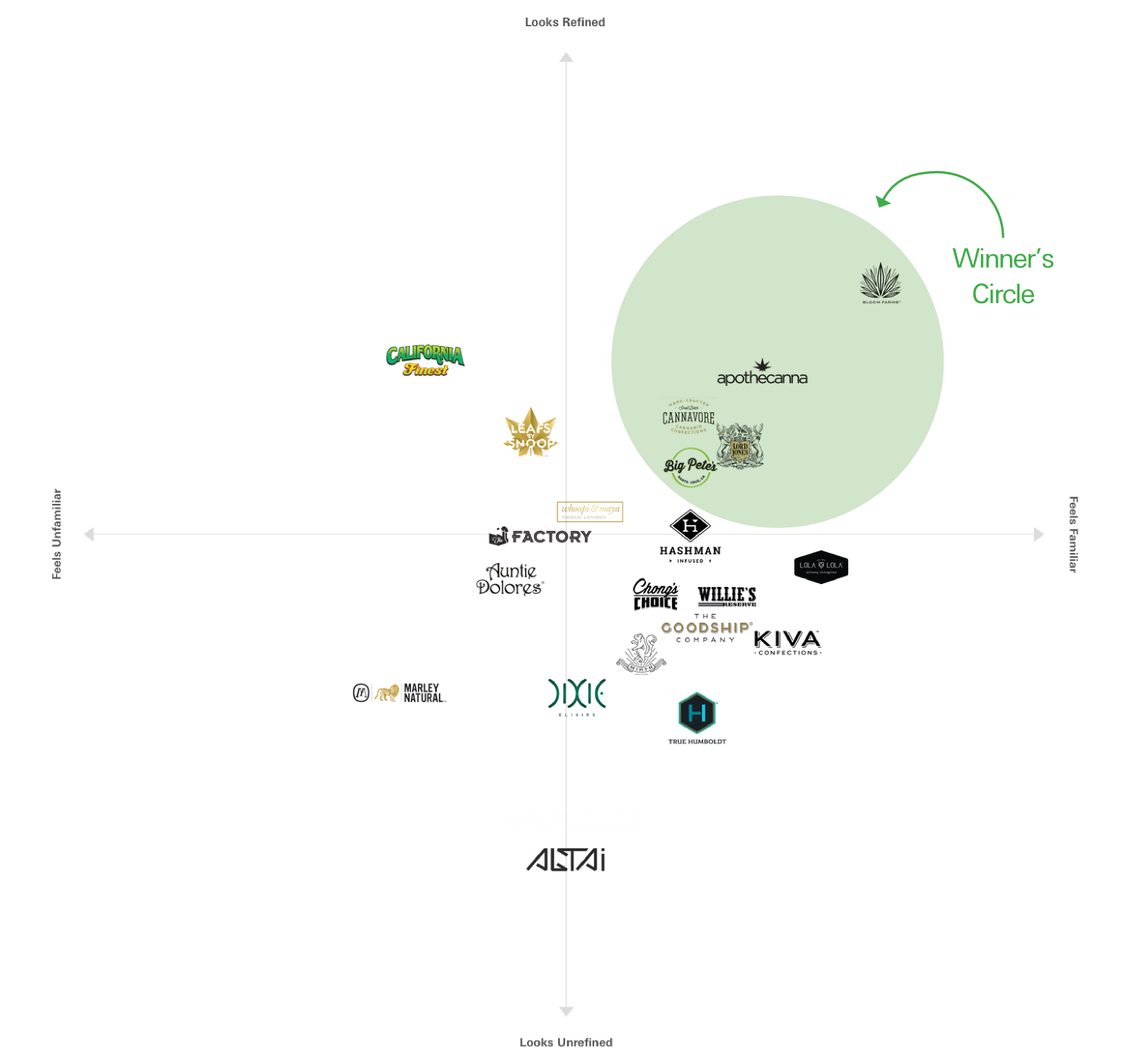 Source: HPZ
There were five clear winners based on customer ratings: Bloom Farms, Apothecanna, Cannavore, Lord Jones and Big Pete's. But, what makes a brand successful? What makes it refined and what makes it familiar?
Refinement is pretty self-explanatory: It's mostly about craftsmanship, about a brand looking professional and its image, visually balanced. However, familiarity is harder to define. What HPZ asked was if the visual resulted more literal or more abstract to the average non-stoner consumer.
"Visuals that are more abstract require more thinking; they are not as apparent to people, so they won't get them right away," Kaye added. On the other hand, visuals that are more literal and easy to grasp quickly lead to the "a-ha moment." They often use complimentary colors and natural or organic shapes.
So, among the brands in HPZ's study, the most successful were those that looked professional and could be easily understood as cannabis brands. On the other hand, if one takes one of the worst ranked, Marley Natural, one quickly notices an association to the "stoner culture" and an isologotype (the small image next to the name) that's very tied to the Rastafarian culture, and not easily recognizable to those who are unfamiliar with it.
About HPZ
High Pressure Zone is a design consultancy firm based off Los Angeles. Founders Michelle Priest and JJ Kaye come from a background of large-scale digital marketing projects for companies like Alphabet Inc (NASDAQ: GOOGL) (NASDAQ: GOOG)'s Google, UCLA, Walt Disney Co (NYSE: DIS), Wal-Mart Stores Inc (NYSE: WMT), Droga5, the U.S. Marines and multiple other corporations and startups.
More From Benzinga:
Meet Tradiv: A Startup Bringing Cannabis Wholesale Into The Digital Age – Before It's Too Late
Marijuana Industry Insiders On Why The IRS Is Targeting Them — And How To Avoid Business Disruption
Image Credit: Javier Hasse
View Comments and Join the Discussion!
Posted-In: Cannabis Topics Top Stories Startups Small Business Exclusives Interview General Best of Benzinga