Saudi Aramco Might Not Be Worth Anywhere Near $2 Trillion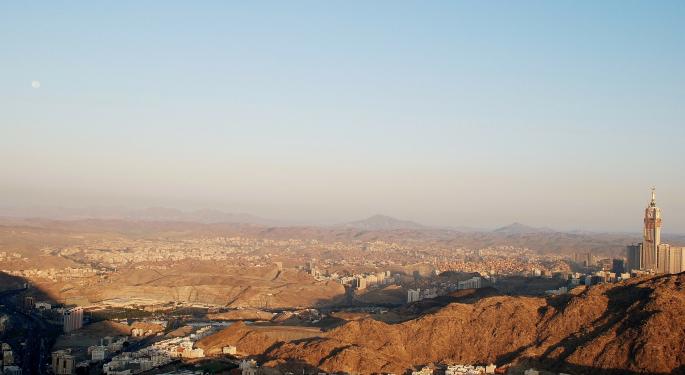 Saudi Aramco, the Saudi Arabian government-owned oil company, is considered the world's most valuable company with estimates ranging in the trillions of dollars with most recent estimates coming in at around $2 trillion. But as the oil giant is prepping for a historic initial public offering, the reality may come as a shock to the Saudi kingdom.
According to a Bloomberg report, some analysts are saying Saudi Aramco's true valuation could fall in the hundreds of billions of dollars. The company has never divulged its financial information before but is opening up its books as part of a long-term plan to transition the country away from the oil sector.
Related Link: Saudi Arabia Details 'Vision 2030' To End The Country's 'Addiction To Oil'
For instance, Wood Mackenzie values Saudi Aramco's core business at $400 billion. A source familiar with the matter told Bloomberg the business could be worth $500 billion because a lot of the cash it generates is diverted towards taxes. Saudi Aramco pays a 20 percent royalty on revenues and an 85 percent income tax, leaving little behind in dividends for international investors.
Another source told Bloomberg that the business could be worth shy of $1 trillion based solely on the company's ability to generate cash.
Where Did The $2 Trillion Number Come From?
Now that Western experts have weighed in on the Saudi company, many are wondering where exactly the trillion-dollar valuation came from.
The answer could be based on the math from Saudi's Deputy Crown Prince Mohammed bin Salman — with 261 billion barrels of reserves times the benchmark used to value reserves of $8. The problem is based on the math Exxon Mobil Corporation (NYSE: XOM) is overvalued by more than 50 percent.
The calculations also don't take into account what could be a drastic decline in oil demand as electric vehicles gain popularity and governments restrict oil use as part of any global warming agreement.
View Comments and Join the Discussion!
Posted-In: Bloomberg Mohammed bin Salman Saudi Arabia Saudi AramcoEmerging Markets Commodities Markets Media Best of Benzinga