Latin American Readers Talk Trump, Aren't Overly Impressed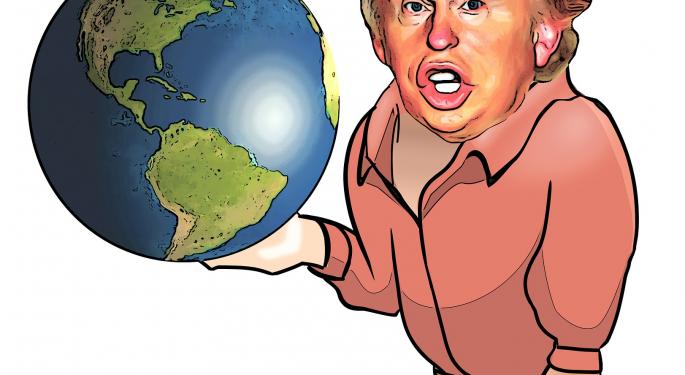 Most people in Latin America, except for the lucky ones who have visited New York City or those who paid very close attention to the "Home Alone" movies, had never heard of the Trump name or brand until very recently. However, the presumptive Republican nominee for the United States' 2016 presidential election has taken over the media in the past few months.
Before continuing, remember what follows is not an endorsement of any presidential candidate. Nor is it a degradation of those candidates.
It should be noted, however, that Trump's presence in Latin American media is not as dominant and omnipresent as it is in the United States. The region's countries continue to face issues of their own, which, in many occasions, overshadow the businessman's mishaps and ballot victories. But, as the possibility of him becoming the next President of the U.S. (with the inherent influence this would have over Latin American politics and economies) becomes more tangible, media outlets are trying to explain to people what is going on — sometimes by not-very-accurately comparing him to the region's best-known populist leaders.
Related Link: Wall Street Displeased With Trump's Call To Denudate Dodd-Frank Law
Benzinga spoke about the issue with people in Argentina, Brazil, Bolivia, Chile, Uruguay, Colombia and the Dominican Republic, and asked one simple question: "What do you think about Donald Trump as the main Presidential candidate for the Republican Party in the United States?"
While answers were diverse, two main themes were detected. Primarily, people are worried. Secondarily, while they believe (or say they know) something is wrong with Trump, they cannot point out the problems they have with him and his policy, but only a general notion that he's a "bigot" — as several respondents called him.
Is This A Joke?
Let's take a look into the responses picked up by Benzinga's poll. It is important for readers to notice that, while Benzinga could not come across any positive answers, this does not mean Trump doesn't have any supporters in Latin America.
'Shameful,' 'Clown'
A blockchain engineer with an M.A. in finance described the whole situation as a "reality show." He elaborated, "When he wins, he's gonna come out and say, 'This was a joke, fellas,' and just flee. This is shameful, really."
A Bolivian-born former Angel Investor and current head of investments at a Venture Capital Firm based off New York seemed to agree with the testimony above. "He's a clown," he said. "To me, it's madness that the most powerful country in the world has such a high percentage of ignorant population. If Trump won, or was even close to winning, I would feel ashamed for humanity." However, he added, "I am not that worried, because a president in the U.S. does not have as much power as one has in Latin American countries."
'Rabid Discourses' And 'Uncultured' Supporters
An architect in Brazil also seemed quite worried. "I believe his election would imply a huge regression for the world," she stated. "We're returning to a period of total intolerance…If the most powerful political position in the world is occupied by a person with such rabid discourses against immigrants, Muslims and everything that does not fit the North American conservative pattern, we're in deep trouble."
An industrial designer and entrepreneur in Argentina also called him a "joke taken seriously, the flailing of a drowning superpower."
A med student in Bolivia also declared to be ashamed about the fact that Trump had gotten so far, amassing so much support. "I cannot believe how uncultured the Americans and Latinos that support him are," she said. "We're talking about a reality show star, who's covered in money…. and only seeks power, and no good for anyone but himself. Seeking refuge in his 'make America great again' motto, he seeks for scapegoats like a kid who just pulled a prank."
'Reminds Me Of The Times Of The KKK'
A retired award-winning apparel designer acknowledged her little knowledge on the subject, but still expressed incredulity regarding the fact that Trump has a chance to win. "He's a guy that discriminates everything. It reminds me of the times of the KKK," she stated strong-wordily. "His economic independence is also important to his success. The campaign cost $9 billion, and he's used his own money, says whatever he wants…In the meantime, Hilary [Clinton] has to lobby her way up."
Related Link: How Trump Could Cause A Recession Even If He Loses The Election
'Xenophobe,' 'Racist' And 'Histrionic'
A 68-year old financial advisor, sociology and philosophy student provided an interesting two-lane analysis. "From a structural angle, he's coherent with the xenophobia and racism that has been seen in the U.S. since the nineteenth century — Manifest Destiny, romanticism, nationalism…practices that had a strong influence over North Americans and their identities," she explained. "From a situational angle, Americans are very dissatisfied following the 2008 crisis, when many lost their properties because they couldn't face their mortgage obligations. So, now, they don't want policies that cost then billions of dollars to keep up (Iraq, Afghanistan), but a policy that's closed to everything that's different, and a state that intervenes and supports them socially," she concluded.
An analyst at one of the Big Four auditors of the world and the Center for International Economy was not as condemnatory. "I believe that almost everyone at the Republican Party exhibited a similar position. Trump is only more histrionic," he voiced.
Another industrial designer and student said he sees Trump as a "typical manipulator of the true American Idiot…He camouflages his racist discourse with cheap promises that do not favor the social development of the American population," he commented. "If I could send one piece of advice to the Americans, it would be: Please, keep carrying the flag of cultural diversity and free expression." While the individual recognized Trump's "very high level" as a businessman, he added, "A person with such deep and macabre personal interests could threaten the American democracy. He's a manipulation wiz using his best weapon, the crowd's stupidity and ignorance."
'Un Facho'
Finally, a sports journalist shared his view of the issue, once again, clarifying that his knowledge is limited. "Trump wants to look confident, gallant, youthful and convinced that he can lead one of the big world powers. But, going beyond playing-pretend, his words show him as a poor contender," he explained. "He's very cheeky when talking, but also racist, a xenophobe that emanates that je ne sais quoi that makes me imagine a bad person, even in his private life. I would really lament if he got to be president, but at the same time, feel it's unavoidable. I hope I [am] wrong, though," he concluded, adding that, to summarize, he sees Trump as a "facho" – a word used in Latin America to describe people with fascist tendencies, and repeatedly heard about Trump.
Interestingly, more than a couple interviewees suggested we ended this article with a clip from "The Simpsons."
Disclosure: Javier Hasse holds no interests in any of the securities/institutions mentioned above.
Posted-In: 2016 Presidential ElectionsEmerging Markets Politics Opinion Exclusives Markets Interview General Best of Benzinga
View Comments and Join the Discussion!